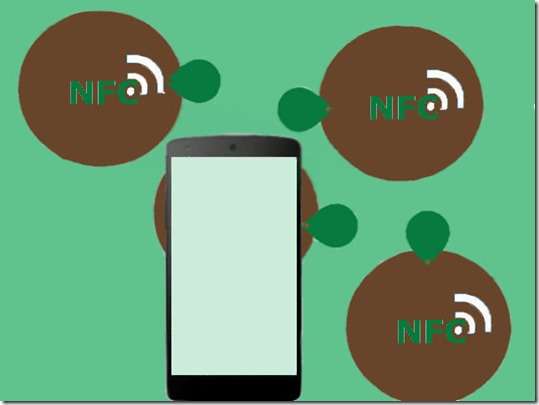 NFC is a technology where a short length WiFi connection is available to connect devices and NFC tags. NFC tags are smart chips which is having WiFi connectivity with a customizable program writing support in it. Via these tags you can set automatic tasks over your Smartphone whenever they connects to that particular NFC Tag's WiFi. Mostly people aren't much aware about this technology. They are generally using NFC for making of payments only. There are limitless possibilities you can do with NFC tags and Your NFC Smartphone. You can custom program a NFC tag as per your own need.
Automation at Home and Workplace using NFC enabled Smartphone
Home or Office Door Unlocking
You can create a NFC tag with your Smartphone to enable home or office door unlocking. You can unlock this by taping your phone on a NFC Tag installed on door. This Tag should be programmed for door unlocking with required NFC supported door locker. For example lockitron is a good NFC supported door lock to use. It will give you access to lock/unlock your door from any place wirelessly.
Home Lights On/Off
Everyone wants to use auto light on/off options enabled to their desk or bed side. You only need to place a NFC tag or Sticker at a place where you want to use this function. You can control Philips Hue Lights with NFC Tags. You can know more about how to control Philips Hue Lights via NFC.
Smartphone customization via NFC
NFC Basic is good app which let you write tags about profile customization in a easy way. Using this app You can create tags for contacts, SMS, Phone, E-mail, Silent profile activation, Bluetooth enabling and much more customization task which Android supports. This will make you able to use automation for many tasks you want to use on your Smartphone with a simple tap.
WiFi hotspot creation at home or office
InstaWifi is a good app which let you share your WiFi connection with your friends or family members without letting them know your WiFi passwords. This app will help you in making WiFi hotspot by simply tapping on a tag. Secondly if your WiFi password is very complex to remember you can use NFC tag beside remembering or writing that password on a paper.
Bluetooth Devices Controlling
You can create more custom NFC tags searching over internet about how to program a NFC tag or Sticker. Using a NFC tag you can control Bluetooth Speakers, Bluetooth Keyboards, Bluetooth Mouse, Bluetooth Printers and more devices. You can do tasks like as auto music playing, volume up and down Or controlling computer via Bluetooth.
flight mode and alarm setting when on to bed
If you don't want anyone to disturb you while sleeping. You can set a NFC tag near your bed side. Whenever you put your phone there, It will go in flight mode and automatically alarm will be activated in Smartphone. To do so you only need to use a NFC tag at your bed side. Or you can set some more custom NFC tags which will enable some setting in your Smartphone for early morning setting activation in phone.
Above ideas will help you in getting some automation at your workplace or home. You can imagine a lot more situation based tags for using at home or office place. Let us know below in comments if you have rocking idea to make automation at home or office. We will be happy to answer your queries in below comments.