Amazon has made its own image in market of Tablets. Their first tablet was a cheap alternative for people all over world looking for an alternative of Expensive tablet brands. In such practice Amazon got good success, that's why it is well known name in market of Tablets.
On Thursday, 6th September 2012, A press event organized by Amazon. In this Event Amazon CEO has introduced three new Tablets to users. Lets have an overview on Plus & minus of new Amazon kindle Fire Tablets.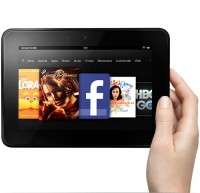 Plus points of New Amazon Tablets:-
Processor & Hardware:-   These new tablets are having TI OMAP 4470 Processor for better processing of tasks. It is coming in different Storage options as 16 GB, 32 GB, 64 GB.
HD Display:-  It is coming in 7″ & 8.9″ screen sizes. The Screen resolution is 1920 x 1200 for better HD viewing experience. These tablet display is having full spectrum color. 
IPS Display Technology:- This is old Display technology which makes  possible clear image viewing. In this technology we will be able to see accurate color from all angles of the device. It will have no lighten effect when we touch screen. 
Dolby Digital Plus Speakers:- These tablets have Dual stereo speakers with Dolby Digital Plus feature in it. It will make better  music, audio experience for us.
High Quality Wi-Fi Connectivity:- Two dual band Wi-Fi antennas with 2.4 & 5 Ghz connectivity make possible High Quality Signal receiving. It has found better signal reception than other tablets.
HD Front Camera to make Video Calls in HD:- Its front camera is HD camera. It is very useful when making video call or web cam chat.

HDMI Out Feature:-  It has HDMI Out feature. This feature makes such HD tablets more useful in viewing on larger screens available nearby us. As if we want to view a movie stored in tablet on HD TV, we can easily view it via plug HDMI Out port.
Reasonable Prices:-   Its main factor which make Amazon tablets popular in past. Currently below prices offered for different versions.  7″ tablet price is $199 only. 8.9″ screen size with 16 GB storage price is $299. And its 32 GB version price is $399.  Its 4G LTE version prices are 32 GB in only $499 & 64 GB in $599 only.

Apps Support:-   Amazon has build up its own Android App store for finding apps to tablets. Although this store has limited apps, but still it is good to have basic apps installed on tablet via this. 
Android 4.0 Operating System:-  Amazon Kindle fire is having Android 4.0 Platform Operating System in it. And no doubt Android is most popular platform in current time. So its Plus point in it.
Weak points of the New Amazon Tablets:-
No GPS:- It have No GPS. This is specially disappointing if we look for map & location based services. Personally I do miss such feature a lot during traveling to other City.
No NFC for free content sharing:- NFC (Near Field Communication) Sharing is a very good feature to share content free of cost in nearby devices. This feature not having make a Negative point for it.
No Access to Google Play Store apps:- Google Play Store has a lot of apps to install & use. Lack of access to Google plus store is really sad.
Overall conclusion is that these tablets are better performing than previous tablet versions. Previously Amazon has minus points like as No slim design, Screen Quality, Low Performance during work on tablet. The new device has come with improvement to make it slim, Super screen & High performing in run time. We can say its an upgrade to Amazon Kindle Fire tablets for better performance. Let us know in below comments what you say about Amazon Kindle Fire HD Tablets.
[ssba]