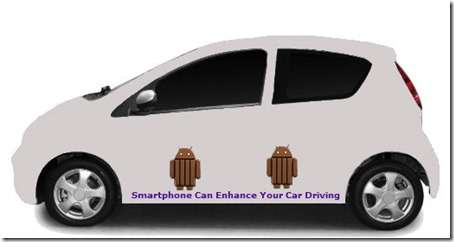 Android has become most popular Mobile OS in current time. It has huge support of third parties to develop apps and tools for making life easier. There are many ways you can use your Smartphone to enhance your car in a high tech tasking. It is good to use technology you have in your Pocket. Plus you can do this using your Smartphone without paying a single buck to anyone. You no longer need to buy GPS devices when you already have in your Smartphone. Here we will discuss about how one can make his/her car driving experience more fun full, useful and entertaining.
Car parking, fuel stations and service centers searching
Google Local Places app To find nearby parking places, fuel stations and service center locations you can use Google Places app on your Android Smartphone.
Using Parkopedia Parking app on your Smartphone you can find available parking slots nearby your location. It is user added parking database which will have a large collection of garages nearby you.
GasBuddy will help you in finding cheapest nearby fuel stations. Just select a station nearby your location searching in this app.
Traffic status, best routing and GPS Navigation
Traffic Monitor and Mapfactor They are popular apps which will bring best route for driving to destination. It will not only suggest you point to point while driving but also give you suggestion about traffic jams, accidents and real time condition on a particular way.
Fast food Reality will help you in finding fast food chains from your current location. It will suggest you restaurants like as McDonalds, Burger King, Dunkin' Donuts, Starbucks, Pizza Hut etc.
Waze is good app to know real time alerts from real people who are on those routes. It is accurate real time reporting of that route.
Music And Video playing
AALinQ Car Music Player is good solution for connecting your Car music player to Android Smartphone. Secondly this app has Large fonts and vivid colors so you can easily play and control music playing on Smartphone.
Pandora music is good music playing app while you are driving.
Google Play Music is another good app for listening music on your Android Smartphone. After connecting to car music player it will play music in your Car as well.
Car controlling via NFC Tags
Turn on GPS:- You can program a NFC Tag for your car dashboard. Say when you tap or place phone on that particular place on car dashboard your Smartphone will automatically turn on GPS in your device. And it open related map navigation apps instantly.
Auto run Car stereo connecting and playing apps:- You can also program a NFC Tag for automatically connecting Your Android Smartphone to Car music system. All you need to do is place or tap your Smartphone on a NFC Tag which you programmed for music playing.
Profile activation when you are in Car:- One more tag idea we have currently is that you can program a profile activation when you are in car by taping on that tag.
Bluetooth Connecting Tag:- You can create a NFC Tag for auto connecting Bluetooth headset or car stereo. It is much entertaining way to connecting devices available in your Car.
Car finding on Maps
Car Locator app will locate your car on a map. Some person forget where they have parked there car, in such a case this app will surely help you in finding car on map. Or if some other person is driving your car than you can see him/her on map using this app.
Auto answering a call and listening messages when driving
Auto Answer Handsfree Car app will automatically receive incoming calls and put your phone on speaker mode. This is very useful when you driving a car. It will assure road safety while driving. You can use this automatic method for receiving calls hands free.
DriveSafe.ly® is good solution for listening SMS, E-mail text when you are driving. You can now listen all messages hands free on a highway in car at speed of 70 miles per hr.
Car mileage, service schedule and running speed monitoring
aCar app let you know about your car mileage, Engine oil and filters condition based on service statistics. You can see monthly activity as well via this app. You can record fuel filling frequency and mileages via this app.
Car Dashboard is good app for monitoring car activities like as running speed, speed alerts, current temperature, altitude, compass etc. It will give you speed alert which will help you in safe driving.
And there are many more apps you already using while driving a car. Let us know below in comments about those hidden but useful android apps best for using while driving a car.
[ssba]