Once there was a time when having an Android Smartphone was not in reach of every person. The current revolution in smartphone marketing & brands availability made it possible to have Android smartphone in the hands of mass public. Today most people love to use android smart phones in their day to day life. Like Personal Computers we have good hardware & software (apps) resources on our Android devices to know the unknown uses of Android devices. These Android tips and tricks makes it more useful for us. Below are some of the tips I would like to share with you:-
Internet Sharing– You can share internet connection of your Smartphone via Tethering options available in your Android smart phone. To do so go Settings >> More Settings(on some devices you will find it under different name, but you will identify it by similar names like more network setting etc.) >> Tethering and portable hotspot >> Portable Wi-Fi hotspot (tap on button and it will on Wi-Fi hotspot sharing internet connection active on the smart phone). To configure it tap on Portable Wi-Fi hotspot text and it will take you to configure & other settings page. This page will have some instructions as well regarding how you can connect to that Wi-Fi hotspot via other devices.
Press & hold button tips – Hold Home button on your device to see all running applications at that time. It shows all background running apps which isn't closed & still using part of memory of smart phone. You can drag them in sides to close them to free up memory. There are some quick uses Tips via tapping & holding buttons on Smart phone.  long press back button on smart and reveal it. In second repeat it will open the navigation slider at left vertically. You can slide from Top corner of screen to Down to see options for quick tasking. Long press & hold the left side button to launch Google for searching things on your Android Smartphone.
Apps uninstall trick– Simple way to uninstall an app from Android device is to Press & Hold an app icon then dragging it to top side remove named thrash icon. Sometimes it doesn't work. If an App not being uninstalled by simply hold & dragging to top shown delete dustbin, You can delete it opening the app installation page. For example Darkness Reborn which is an game app doesn't respond via simple method. Instead of that we need to visit the app uninstall page on Play Store.
Smart Phone maintenance & Android safety tips– You may always put your smart phone on soft surface to avoid scratches on screen & outer slim body of Smart Phone. I will recommend you to put your Smart Phone on Cloth, sheet, paper etc surfaces. Make it habit to avoid contact with table or metal surface to keep it nice looking for longer time. For internal Security You should install antivirus software on your Android Smart phone.
Data Connection management tips– You may off Data connection if you aren't using it or it is not necessary for you to get instantly messages from Social networking apps. To manage Data usage on Android smart phone Go settings>> Data Usage>> Mobile Data    ( on select it will trigger data usage) . Below option will let you set data usage limit. After this it will show usage graph on screen. It will also show which application using most of data on your smart Phone. So it is easy method to know about data usage on Android smart phone.
Various kind Uses of your Smartphone– Use your Smart phone as flash drive if you need to get some data immediately. But remember it will lose all your media files etc. if you formatted it. It is good resource in your pocket to carry data storage upto storage limit of your Smart Phone. In instant need you can use your smart phone internal memory storage as a flash drive. To do so Go Settings>> More Settings >> USB Utitilites >> Connect Storage to PC (remember you need to do this first before connecting mobile to USB cable) >>(After connecting to USB cable ) Turn on USB Storage.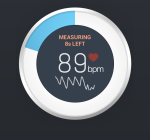 Tips & tricks to measure health on Android– Use your Smart phone to measure Heart beat of a person. Instant Heart Rate is an Android app to measure heart beat instantly. To measure heart rate place your finger tip on camera lens as instructed in app. It is really helpful app to know about health condition of a person in a situation where there is no nearby instant medical help available. This app will measure and show your heart beat statistics like these the picture shown at right side.
There are much more options & uses are there in Android Smart Phones. It is an ongoing process to find & apply hidden tips on Android devices. You are welcome to share any special android tips and tricks you have found with your Android devices below in comments.
[ssba]