Today most of people want to record there phone calls. This is need of most phone users in these days. The mobile phone is a part of life, some peoples are in trouble due to phone calls and want to record calls on their phone. I am one of them who want to auto call record on my android phone.
There are many call recording apps on Google Play Store. We are describing about best call recording apps with features. These apps will let you to do call record on your android device easily, So you can listen call conversation later from your phone.
Below are the best apps for Call Recording :
Call Recorder : Call recorder is available in free and paid versions. I have tested this app and it works great on my Android phone. The free version of call recorder shows ads on app interface. It automatic starts recording of a call when you pick call or outgoing call, Quality of recording is very good. It doesn't shows notifications on if you disabled in settings of phone. It save file name with phone no and also shows recording time and date.
Call Recorder features:
Enable/Disable call recording
Records all your phone calls
Play/Stop recorded audio by touch on the item
Delete recorded items
Lock recorded items to prevent from auto-cleaning
Send recorded items to email (only in Pro version)
Confirmation dialog: Would you like to keep recorded call that is shown just after the call (only in Pro version).
Settings: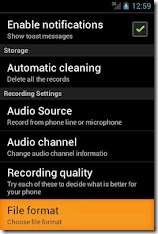 Enable/Disable notifications
Configure automatic cleaning
Recording source. For some phones where Line recording does not work – better use Microphone, Own voice or Opposite voice(it still might records both sides).
Recording quality. It depends on the phone, so please try different
File format
Recording channel. Some phones don't support stereo recording so please, try Mono and it might help in recording.
This app will provide you great experience on your android phone.
Auto Call Recorder : Auto call recorder is also available in free and paid version, free version of Auto Call Recorder shows ads on its interface. Although free version have lack of a few features but still free version is good for you if you don't want to purchase app.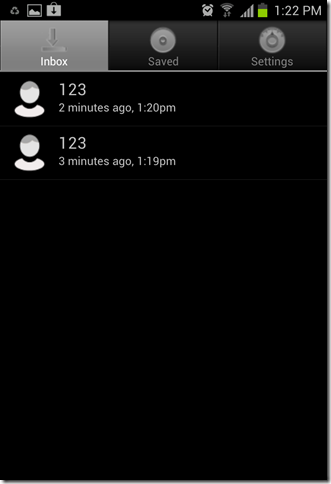 Below are the features of Auto Call Recorder –
Automatic call recording on incoming or outgoing
Select which calls to record, record desired calls on the phone
Play, save and share recorded calls
Record files on SD card or phone memory
Record in desired format wav, amr, 3gp formats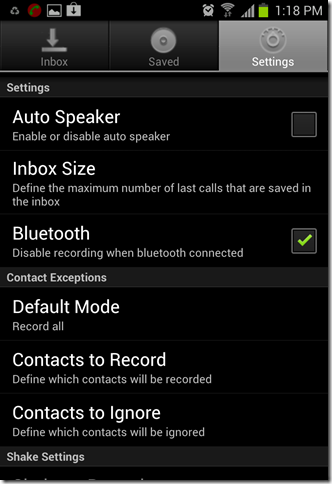 If you have a problem with the recording, please try to record using a different audio source,  which you can configure in the settings tab. Try to record with speaker on or off , until you find the best combination for your phone. For example you can try Audio Source -> Voice UpLink and speaker off.
There are also many auto call recorder but above two are tested by me. if you have any other app that is great please let us know in comments.
[ssba]