Android Smartphone has issue regarding battery backup. Today we became habitual of using Smartphone so much that we need longer battery life in this device. There are some good apps those will manage tasks on Smartphone to save battery automatically. Below is some of battery saver app for android which will help in optimizing battery life.
Battery Saver App for Android Smartphone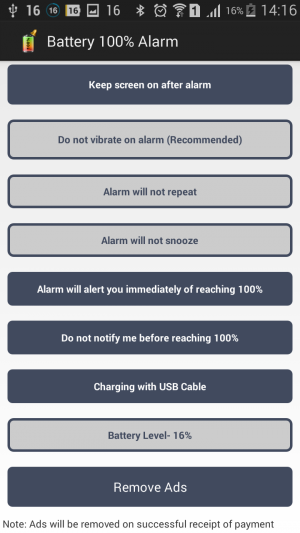 This battery saver app let you alarm when your Smartphone battery charges to 100% level. It avoids battery from overcharging issue. It also helps in battery cool because keeping battery in charge for longer duration causes heating on it. It have many options like keeping screen on after alarm, not to vibrate on alarm, not to repeat alarm, not to snooze alarm, don't notify me before 100%, charging with USB cable, battery level info etc. Just tap on a option to select which you want to use or not to use.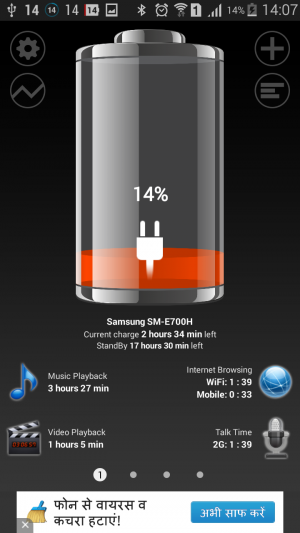 It is most beautiful battery saver app. It has visual appealing first screen on the app. On first screen it will show remaining time of each activity you can do with battery. Swipe left to navigate next screen. Here you will see details about individual service backup time. On third screen it shows same kind info. On fourth tab it will show you battery health, technology used in battery, temperature of battery, voltage and time since last charge.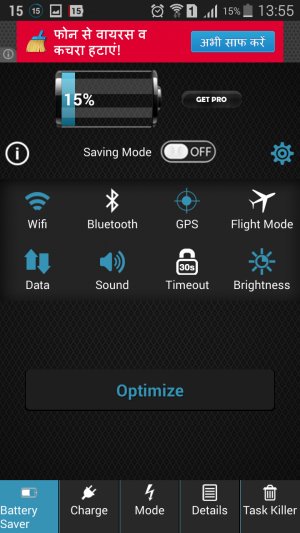 Battery saver doctor is nice app for showing all battery related info on the screen. On first screen of the app you will see remaining battery percentage at top. Then a slide button for saving mode on/off. After that there are all Smartphone services which consuming more battery life like wifi, Bluetooth, GPS, Flight Mode, Data, Sound, Timeout and Brightness. Just tap on them to on/off in easy way. There is a button for optimizing battery. It will show screen for optimizing all apps. Here you can kill apps those are consuming more battery power. There is more navigational tab option at bottom of the screen. Second tab is about charging status of battery. Third tab is about more battery saving modes selection. Fourth tab is about how much battery backup is left for individual phone tasking. Fifth tab is task killer which will show running apps to kill them for saving battery.
Battery Defender – 1 Tap Saver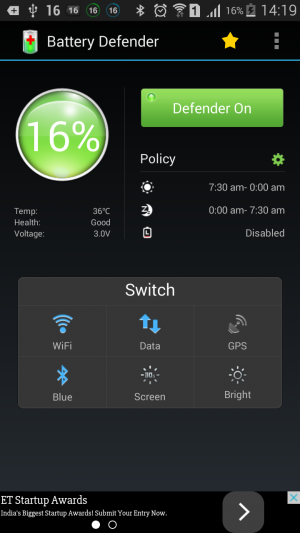 This app is much like other battery saver apps. But it shows battery % in a cool circle with defender on button at its right side. Below it you will be able to see temperature, health, voltage of battery. At right hand side of this you can set privacy for day time, sleeping time in the battery. These options optimizes battery uses according your policy time. Below this area you will see switch for services on/off like wifi, data, GPS, Bluetooth, Screen brightness and screen light on duration. You can set them manually via tapping on them.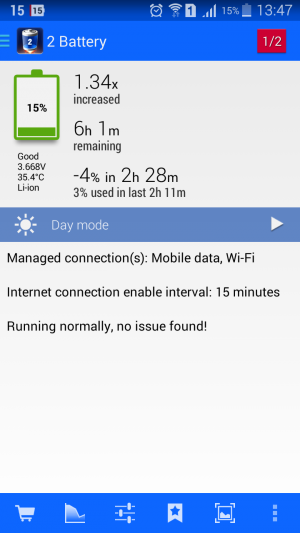 This app does on/off internet data connection on a Smartphone to save its battery. It let users know battery status in graphical view also. This app provides options for notifications, whitelist, blacklist and utilities management via left top menu. Via notification menu tab you can manage all notification related settings. In whitelist apps to keep running while the battery saver app is running. Please be careful not to add IM messaging apps like fb, skype in this list. The same way you can blacklist apps in it via blacklist menu. It has also its utilities menu to change some settings like battery notification, screen filter, auto screen off, refresh network etc.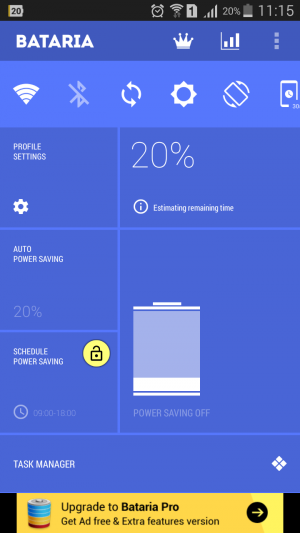 In this app you can set auto power save mode on function at a specific battery percentage remaining. It also provides option for scheduled power saving within a time range. For example if you want to let power save during 9 am to 11 am in morning, it will automatically on power saving features during that period. It also provides you access to task manager to clean running background programs. You can also change profile settings via this app to save battery for longer use.
Let me know below in comments if you have any question, suggestion or feedback about the post.
[ssba]