Online chatting is a good option for users to interact each-other. They can use it to share media such as photos, videos, links, music etc. Via chatting on a perfect application you can share your thoughts, emotions, ideas to others. Online chat is important for both education purpose & fun purpose.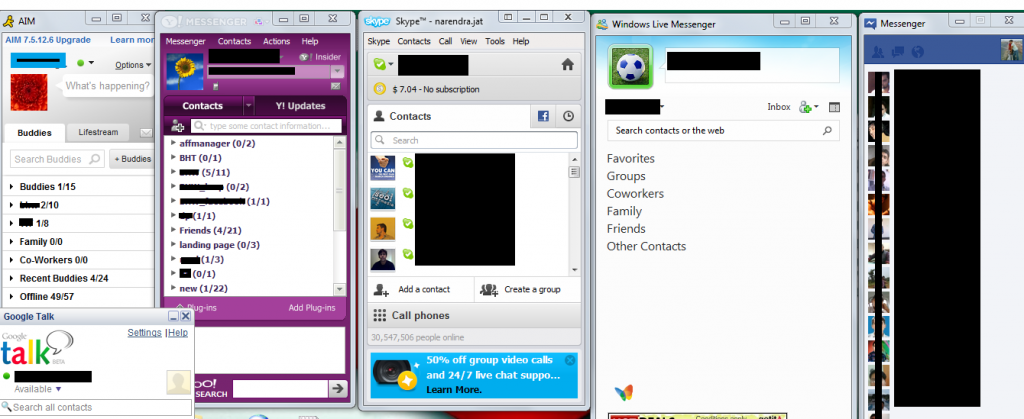 So get started with best chat applications all you have to select which suits you best for your purpose. Below is list of online best chat applications available for your desktop :-
paltalk:- It is a video chat messenger available for chatting with people having cam all around the world. You can feel alive on the messenger when you talk anybody. Its cool.
Skype:- Skype is mostly usable chat software for people who do believe in having business via chat. Skype has provided many kind special features to users. And its worldwide access make users enable to chat with fun.
Google Talk:- Big G has provided this chat applications to users free of cost. You can download it to have good chat experience without no extra confusion with messenger.
ICQ:- Its good chat network application provider. All you have to simply visit site & download application on your desktop for use. It provides free SMS facility to send message to your friends.
Camfrog:- Video chat application for accessing live web cams. This application has many users online worldwide for chat & share fun around. So get ready to have fun today.
Yahoo Messenger:- Yahoo is one of the most popular chat applications available over internet. New chat application has come with more advanced features.
Rediff Bol Messenger :- Rediff bol is also good chat option if you want some kind chatting with people in public chat rooms. In India its providing location based chatting service.
AIM:- AOL instant messenger is quite popular chat applications since 1997. And continue have fame all around world for its service ability.
Campfire:- This application is dedicated to Business group discussions, chats, & sharing. All business related people can do great with this application.
IRC:-This is mainly designed for forums users live chat. All major forums does like to have such facility on their board. And it make users to get connected & talk in easy way rather than sending PM them in forums.
Windows Live Messenger :- Its cool chat application from Microsoft. And we all know the value of Microsoft's  software. It comes with windows software. It get updating time to time by Microsoft.
Facebook Messenger:- Facebook has launched their chat application for desktop. And it supports other devices such as ipad, iphone, blackberry etc.
IMVU:- IMVU is new concept for users chatting in a 3D environment. They can kiss somebody, date with someone in a 3D social network. And its one of the cool 3D virtual worlds . Simply register & download the messenger for your desktop
Eyeball:- This chat application has great features as multiparty video chat, PC to phone call support, Google Talk connectivity is main features of the application.
Beside these applications you can try these applications as well:-iChat, QQ, Talker, XMPP, Pidgin, Adium  & counting..

Out of the list I am currently using ICQ, Yahoo Messenger, Skype, AIM, Google Talk. And have good experience on those applications. All chat messengers have their unique features. Some are best for Video chat, some for easy chat, some are available for free to download & use.
[ssba]