Do you looking for free antivirus software for your PC? If yes, then here i am describing the best antivirus software available for free with high security of your PC.  Antivirus software keeps your computer secure from virus, trojan, worm, spyware, adware, dialer, kelogger and rootkit infections. Previously antivirus software just detected viruses and spyware removers just detected spyware but nowadays antivirus software comes with ability to detect virus, spyware and malware.
Myth About Antivirus Software
Keep in mind installing a antivirus doesn't mean that your computer is virus free. To make your computer virus free, regularly scan your computer with antivirus software. Before scanning check your antivirus virus definition update over internet.  To ensure safety You need to update your antivirus software regularly, so you get protection from latest viruses, trojans, worms, spyware, adware, dialers, keyloggers and rootkit threats that perform malicious activities on a computer. With the huge increase in malware, antivirus software cannot keep up with detecting all of it. But using more than one real-time antivirus uses much more system resources, can cause conflicts and even reduce protection. So I recommend you only choose one antivirus for real-time protection. Instead, you can increase your protection using other security software.
I used several free antivirus software which are vital in protecting my computer's from virus threats and other types of malware. Below are the free antivirus –
Microsoft Windows Security Essential and Windows Defender
You have Genuine Windows OS ( XP, Vista, Windows 7 or Windows 8) installed on your computer. For windows XP, Vista, and Windows 7 download free security essential software http://windows.microsoft.com/en-us/windows/security-essentials-download and No need to download any software for Windows 8 (Windows 8 comes pre-installed antivirus solution). It protects from all antivirus, malware and other threats. Remember that you must update virus definition and scheduled scan for high security. Microsoft security essential screenshot as shown in images.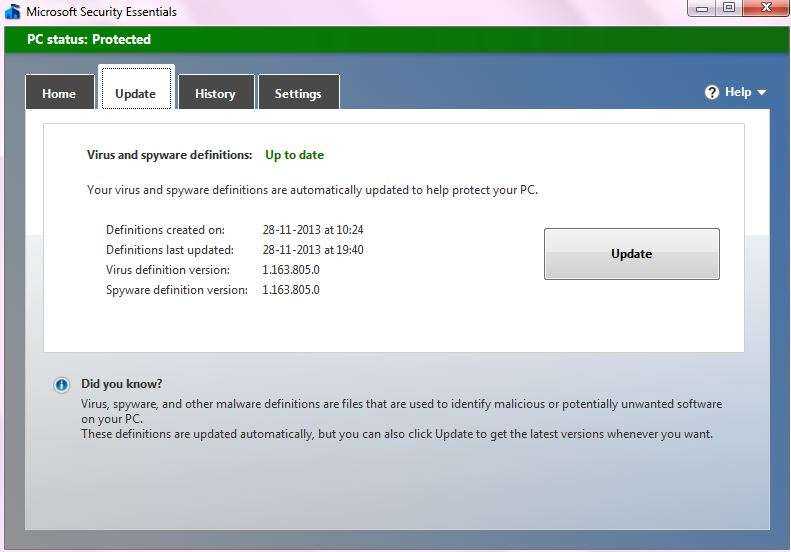 Scheduled scan set on Microsoft security essential for real time protection.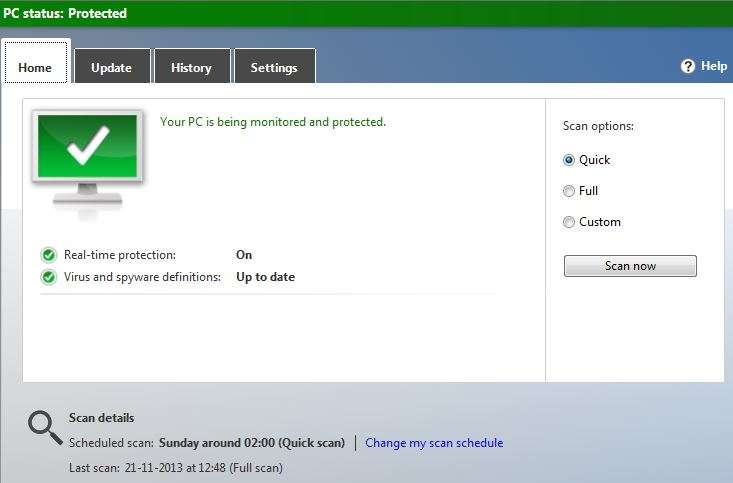 You will see Microsoft Security Essential icon in taskbar when Microsoft Security Essential is active. Its taskbar icon convert in red when your PC is on risk (virus definition not updated, not scanned whole pc for long time). This is best antivirus software for Windows OS.
avast! Antivirus Software
Avast! free Antivirus is best free antivirus software in free antivirus software. Avast! real time scan provide you realtime protection from viruses whether you browsing internet, checking emails, sending IM or downloading software. Avast! new version 7 brings more features. Keep avast! antivirus update from internet and get real time protection from viruses. Get avast!
Microsoft Security Essentials
Microsoft Security Essentials  guard your computer against viruses, spyware, and other evil software. It provides real-time protection for your home or small business PCs.Microsoft Security Essentials is free and designed it to be simple to install and easy to use. It runs quietly and efficiently in the background so you don't have to worry about interruptions or making updates. So go for Microsoft Security essentials, it is favorite antivirus software for me. Your windows should be Genuine for Download Microsoft Security Essentials. Get MSE
AVG Anti-Virus Free Edition
AVG Anti-Virus Free Edition is also a decent choice for a free antivirus. Although this venerable antivirus has had some shaky results in detection in the recent past, it now offers a high level of protection. This is probably due to the inclusion of a fully-fledged behavioural blocker that is the "Identity Protection" protection. This provides a very important additional layer of protection, on the other hand though a similar protection level can be achieved by using one of the free antivirus above alongside a separate behavioural blocker. Unfortunately AVG free has grown considerably in size, has very slow scan speeds and also advertisements. Get AVG
Avira Free Antivirus
Avira antivirus keeps PC clean from viruses, worms and Trojans. Blocks new viruses before they run your computer and also blocks criminal hackers using AntiBot.  AntiVira is still a good choice for a free antivirus scanner, particularly for high risk users. Get Avira
Above are the best antivirus software which i have used on my computer. Choose best suitable antivirus from above. I would like to recommend you to use Microsoft security essentials or AVG free.
[ssba]