Apple Ipad 2 comes with useful built in applications these aplications are really amazing. I am using ipad 2 from last 6 months since my purchase of ipad apple upadated ios many times most liked update was iOS 5 with more than 200 new features.
Below is most features of apple ipad 2:-
Email is really very nice feature of apple ipad 2. I got more than 20-25 mails daily when emails comes ios 5 show email notofications on main screen with sound, So i am able to reply that email in quick way.
here is snap of my ipad email:-

It is very easy to reply email just click on reply email option, however cut, copy, paste is so easy just hold your fingures for 2-3 seconds you will get select, define option.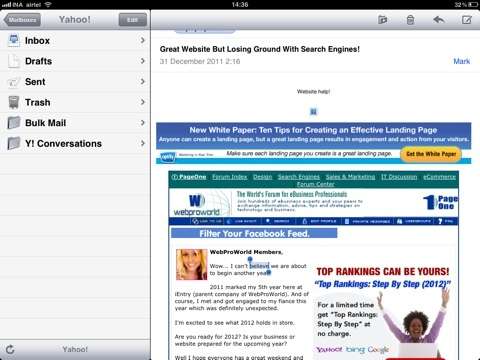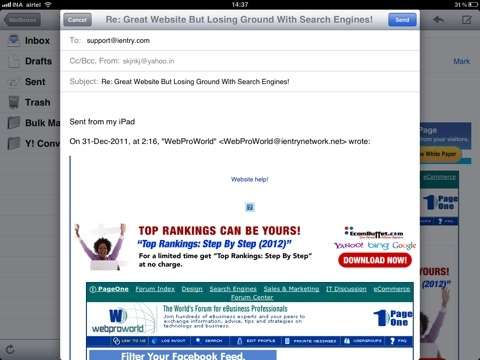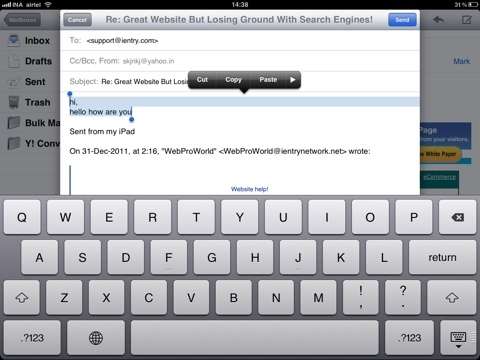 FaceTime feature allows ios users video calling using wifi or 3g (ios 4 users can call through wifi but improved FaceTime in ios 5 for using 3g video calling). FaceTime on iPad 2 lets you drop in on your favourite people and see how they're doing. And what they're doing. And who they're with. You could be anywhere, they could be anywhere. With a tap, your iPad 2 calls someone else's iPad 2, iPhone 4, new iPod touch or Mac over Wi-Fi.1 And there you are, face-to-face, in the middle of a friend's party or with your family on the sofa. The big, beautiful iPad display is a great place for a face, because you can really see it. Not a smile or laugh goes unnoticed, especially when iPad goes round the room and everyone waves hello. If you've ever missed something big and eventful, anything small yet significant or someone's smile, FaceTime helps you miss everything a little less.
It is funny feature by apple when you get bored. When i newly purchased ipad2 we went for a meeting but we have to wait 2-3 hours but thanks to photo booth that entertained us at higher level. When the mood upset, turn the camera on yourself, make some faces and start shooting snapshot-style. Choose various effects and Twist up your face, see yourself doubled or look like you stepped into a comic book. Photo Booth is great for parties or just for kicks And the fun keeps coming as you keep snapping.
Now get access to internet anytime anywhere (wifi, 3G, Edge), it is very easy to get access to favourite website in just slide to unlock and you are online. The Ipad makes it very easy to explore internet, easily hold web in your hands like a book or magazine with multiple features like multiple tabbed browsing, zoom in and out, text and tab links.
Download digital books from itunes store or read PDF format books on ipad very easily like a book and you'll be even more well-read. Every story is gripping on the beautiful iPad display. Flick through page after page of bright text and gorgeous illustrations. When you're ready for more, shop at the iBookstore. And wherever you go, pull out your iPad, and get pulled back in.
The larger screen and long battery life makes life cool watching movies, videos offline or online. The large screen and higher resolution screen makes iPad perfect for watching any kind of video from home movies to podcasts. You can use ipad smart cover as stand for watching movies.
Take Smart Photos and share them online instantly with friends and others with dual cameras.It's super-advanced show-and-tell for photos. Swipe through them one by one in all their full-screen glory. Or choose a favourite song, pick a fun transition and create a slideshow. Turn iPad into the perfect frame with the iPad Smart Cover. Although iPad didn't have flash light so you will get difficulties when taking pictures in dark light.
Oops if You lost or misplaced  your iPad. Don't worry, Find My iPad will help you do just what it says.2 When you first get your iPad, set up Find My iPad in a few simple steps. Then if you lose it, you'll see the approximate location of your iPad on a map. And before you know it, you and your iPad will be easily found.
If you are music lover then it is really attractive feature for you.  Colours sing out on the big iPad display, so your album art rocks. And when you flip through your favourite albums in Cover Flow, you'll see just how great your music taste really is. Although you need buy Apple earpiece for listing music in good quality because iPad has mono inbuilt speakers but it still rocks!!

Download Thousands of applications for iPad and convert its uses as Laptop. Tap the App Store icon and you'll find over 90,000 apps made for iPad, and counting. There are apps for anything and everything — from entertaining the kids in the backseat to packing for your holiday. Many of them are free. You can download them fast. And every trip to the App Store makes your iPad even better. So enjoy download unlimited games, Apps from Apple.
Now finding destination is too  easy just tab maps and start searching your direction and you will be got directions. It doesn't matter you are Pedestrian or in Vehicle it will show your path like a GPS.

Are you Game lover? if Yes.. then you will get lot of games on game center find friends for group playing and it is just so easy it automatic find game partner for gaming. iPad is your playing field, and now you can invite anyone to get in on the game. Round up a group of friends in your gaming network, or go up against people you don't know.

Now get access to millions of videos from youtube. YouTube is just one tap away from your hands, watch unlimited videos for unlimited entertainment.

Found great idea just add it to notes. You never know when a great idea will pop into your head. Before you lose it, pull out iPad and jot it down. The big display is the best place to keep important information, make to-do lists and take notes. You can even email yourself reminders.

Calender is cool feature it show's you to do notes, date time, events to be done by the date.

Add contacts to you ipad from browser or email.Contacts isn't just names and numbers. It's email addresses, IM nicknames, birthdays, anniversaries, websites and anything else you can think of about everyone and anyone you know.
[ssba]