The Samsung Galaxy Note was first Smartphone which come in user options between Smartphone and Tablet. As you know The Galaxy Note was introduced at The IFA 2011 in Berlin. It was first smartphone with 5.3 Inch screen size. So it was given new name 'Phablet', it was middle option between Smartphone and Tablet devices. However many of its users think that it is Smartphone and others think that it is a device alternative to Tablet and Smartphone. Many other features came within Galaxy note were S-Pen( Stylish pen for writing & drawing on Galaxy Note), HD Super AMOLED display with high-resolution (1280×800) among all Smartphone on that time. It was unique product when it was launched. It's uniqueness affected users to buy it and the Galaxy Note is one of best unique product to success it in Smartphone & Tablet industry. Here i will compare all versions of Samsung Galaxy Note series Phablet.
galaxy note series comparison
What's New Between Samsung GALAXY NOTE, GALAXY NOTE II and GALAXY NOTE III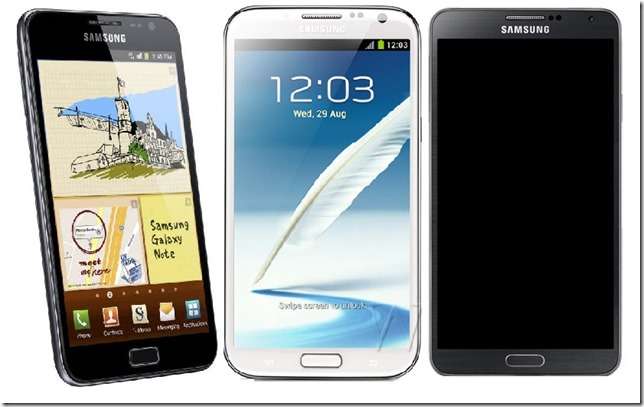 Galaxy Note

Galaxy Note II

Galaxy Note III

Processor
Dual-Core 1.4 GHz  ARM Cortex A9 or 1.5 GHz Dual- Core Qualcomm Scorpion Processor.RAM & Storage
1 GB of RAM
Storage 16 or 32 GB Flash Memory Removable MicroSD 32 GB or 64 GB SDXCDisplay
5.29 Inch HD Super AMOLED Display with RGBG-Matrix (Pentile) 1280×800 Pixels Resolution
(285 ppi)Camera
Rear 8MP Camera
LED Flash LightFront 2MP Camera

Network
3G (HSPA+, HSUPA) & LTE

Connectivity
Wi-Fi 802.11 a/b/g/n
Bluetooth 3.0
Optional NFC

Weight
178g

Battery
Li-ion 2500 mAh
12 hours 3G talktime
3.30 hours web browsing
8 hours of video playback

Operating System
Android 2.3.6 Gingerbread and upgraded to 4.1.2 jelly bean

***Network connectivity, processor and other features may be different according to region

***battery backup depends on many factors

1.6GHz Quad-Core Cortex-A9.2 GB of RAM
Storage 16/32/64 GB Flash Memory Removable Micro SD 64 GB

5.55 (144mm) HD Super AMOLED LED, 16:9 Aspect Ratio, Non Pentile 1280×720 Pixels Resolution (267 ppi)

Rear 8MP Camera
LED Flash Light

Front 1.9MP Camera

CDMA/GSM
3G-EV-DO, TD-CDMA
3G GSM & 4G LTE

Wi-Fi 802.11 a/b/g/n
Bluetooth 4.0
NFC

180g, 183g, 185g

3100 mAh
16 hours 3G Talktime
8 Hours Web Browsing
11 hours Video Playback

Android 4.1.2 Jelly bean installed and upgrade coming 4.3

Octa-Core 1.9 GHz Cortex-A15 or 1.3 GHz  Cortex-A7 (GSM), or 2.3 GHz Quad- Core for LTE.3 GB of RAM
Storage 32/64 GB Flash Memory Removable microSDXC up to 64 GB5.680 (144.3 mm) Super AMOLED,
16:9 Aspect Ratio1920x1080 Pixels Resolution (388 ppi)

Rear 13MP Camera
LED Flash Light

Front 1.9 MP Camera

3G (HSPA+ 42 Mbps) & 4G LTE

Wi-Fi 802.11 a/b/g/n/ac
Bluetooth 4.0
NFC
Infrared (Remote Control)

168g

3100 mAH
18 Hours 3G Talktime
9 Hours Web Browsing
13 Hours Video Playback

Android 4.3
Processor
Galaxy Note : Samsung Galaxy Note Original came in market with dual-core  1.4 GHz ARM Cortex-A9 Exyons 4210 Soc processor or 1.5 GHz Qualcomm MSM8660 Snapdragon Soc S3 Processor.
Galaxy Note II : The Samsung Galaxy Note II came with 1.6 GHz Quad-Core Cortex-A9. In The Galaxy Note II CPU was upgraded from dual-core to  Quad-core.
Galaxy Note III : Again Samsung made good improvement to it's CPU, it contains 1.9 GHz Octa Core Processor ( A15 1.9 GHz + A7 1.3 GHz) for 3G and 2.3 GHz Quad-Core Processor for LTE.
As you have seen Comparison of Samsung Galaxy Note Series Phablet above there are many new features being added to Galaxy Note Phablet.  I hope this table will let you know more about Samsung Galaxy Note Series Phablet version and their features.
[ssba]