Android OS is most popular OS for Smartphones in these days. It is growing rapidly worldwide because it is open source OS from google. There are millions of apps in Google Play Store. You will get all of your needed apps on android market but when a new Android user buy phone he is unable to judge which apps are best Android Apps.
So here we are describing some cool android apps which you should download. I hope you will like these apps on your Android phone, if you have an app which you want to add in these best android apps please post about that app in comments I will review and add that app for users.
Below are the Cool and Best Android Apps to Enhanced Usability
Games
Games are best way to entertain yourself so Here are the most popular games on android phone which you should surely have on your mobile phone. These games are really best games till date on android OS.
Angry Birds Space Premium
Angry Birds is most popular game on android device. It is unique game for playing on your android device. There is a free version of angry birds space but if you are game addict then you should purchase it surely. There are very cute graphics in angry birds game and this game is designed on space gravity where everything is on zero gravity. This is first game where you can enjoy space gravity. Watch the video  to know more about Angry Birds Space game.
Screenshots of game on my galaxy Note –
So download this best android apps of game from here
Death Racing Pro
Death racing Pro is Fast paced 3D racing game and easy to get started. You will get challenge in high speed on a distance. Choose the cars you want to use in game and enjoy high speed driving on your android phone, for control car you need to tilt your android phone in the side where you want to move car when racing. You can speed up car speed via tap and hold your finger on game interface. There is brake on screen which let you to maintain car speed when it is out of control. Other vehicles turn in high speed so it is so adventures when control car, if you fail to maintain then game will be restart in the stage. I liked it too much…………
Download it from here
Temple Run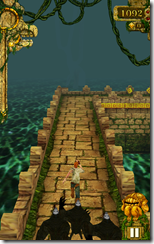 Temple run is very good game for playing on android phone. Game starts that devil monkeys following you, you need to escape from them. For control game you need to swipe left, right, up and down. Collect coins and running is really amazing experience. A little mistake will over the game so play carefully this adventures game. When looking on feet looks like that we are running very scary. Big turns, sudden jump or down. Oh!! it is really amazing. Download Temple run from here
100 Floors
100 floors is puzzle game, so use your mind to open door for reaching to upper floor. To do that, pinch, poke, shake, tilt, swipe the on-screen images, to find a way to solve the puzzles. You can pick certain items up and use them from your inventory. For the first floor, tap the screen elevator button to open the door. Tap the green arrow behind the door to go to the next floor. For Floor2, swipe the trash can to move it aside and tap the green arrow button behind it. Tap the button in your inventory and tap the grayed out arrow above the red arrow. Tap the green button once it is placed to open the door.
Download this game  from here
SpeedMoto
SpeedMoto is 3D graphics racing game for android. Playing game is too easy, tilt mobile left for left turn or right for right turn. For speed up Bike tap on phone screen bike speed will be increased. Be careful when cars indicator is on, control bike otherwise there will be accident. Download and enjoy this game.
Download it from here
Social Networking
Social Networking is an online service, platform, or site whose provides facility of building social networks or social relationship among people. In social networking people create relationship, share thoughts, interests, activities, backgrounds, real life connections and get social updates. Online social network is best way to communicate within peoples easily. Here we are describing best android apps for social networking  on your Android device.
Facebook
Facebook is No.1 Social networking website in these days. Facebook app is available on google Play Store official. Download facebook and share everything with your friends on your android mobile phone. Facebook app provides instant updates when anything is updated in your social circle. Upload pictures,videos and thoughts directly from your Android mobile phone using facebook App.
Download Facebook app from here
Instagram
Instagram is a photo sharing app, it let you Pick from one of several gorgeous filtered effects to breathe a new life into your mobile photos. Transform everyday moments into works of art you'll want to share with friends and family.   Share your photos in a simple photo stream with friends to see – and follow your friends' photos with the click of a single button. Every day you open up Instagram, you'll see new photos from your closest friends, and creative people from around the world.
Download Instagram from here
Twitter
You can directly get updates on your android device. Download twitter app from google play store. Twitter app will help you to update your twitter followers. Get instant notification on mobile phone screen when you get updates from your following persons or you can update your followers using this app. Now get latest updates instantly using official twitter app.
Download twitter from here
Google +
Google + is a social networking app from Google. Turn on Instant upload to sync photos from your phone to private google + album. It supports video chat and text chat with friends on mobile.
Download google + app from here
Google Voice
Google Voice let you to do international voice calls using google voice service in a reasonable price. Send text messages to mobile phones free of cost via showing your google number.
Download Google voice App from here
WordPress
WordPress app is available free of cost on google play store. Write new posts, edit content, and manage comments on your WordPress blog. WordPress for Android is an Open Source app that empowers you to write new posts, edit content, view stats, and manage comments with built-in notifications.
Download wordpress app from here
Maps
Today almost all devices comes with inbuilt GPS navigation system. For navigation there are a lot of map apps on google play store. Below are the best maps app for android.
[Must read: Best GPS Navigation Apps for Android, iOS or Smartphones]
Google Maps
Google maps comes pre-installed on almost all of android devices. Google maps is best free maps app available on worldwide. Set your destination, you will get directions turn by turn. Whether you need directions to your destination, the closest good place for a bite to eat, or just a sense of where you are, Google Maps for Android can help.
Download google maps from here
Google Earth
Explore the world in your hands with google earth android app. Use google earth app to see everything you want see on this planet in just your hands. You can watch world famous palaces like the Statue of Liberty in New York, the Taj Mahal in India, or the Sydney Opera House in Australia, all in their full 3D glory! To view 3D buildings, just select "3D Buildings" from the layer menu.
Download google earth app from here
Navfree: Free GPS Navigation
Navfree is free gps navigation software. Just search and set your destination where you want to go. It will provide you turn by turn navigation notification on the screen. This is really very good navigation app for your android mobile to reach your destiny.
Download Navfree app from here
Street View on Google Maps
Street View will help you to explore the world at street level on Google Maps. See popular landmarks, check out places you want to visit in your hometown or on travel and take virtual trip around the world on your android device.
Download Street View on Google Maps from here
Mail Apps
Every Android device comes with built in Gmail app, In Built Gmail app provides you instant notification. It works very well with Gmail but if you also want other email services like yahoo, hotmail and others like many features then below are the apps which will provide better mailing experience on your Android device.
K-9 Mail
K-9 is a opensource email client based on Android inbuilt Email application. K-9 is focused on large volumes Email handling on Android. K-9 is the best email client for Android. K-9 Mail is an open-source e-mail client with search, IMAP push email, multi-folder sync, flagging, filing, signatures, bcc-self, PGP, mail on SD & more.
Download K-9 Mail app from here
Yahoo Mail
Yahoo Mail app will let you to add multiple yahoo accounts in one place, Experience the faster, smarter, richer on Android. Yahoo mail app made for Android phone from Yahoo.
Download Yahoo mail app from here
Hotmail for Android
The only official Microsoft mobile app for Hotmail that gives you easy access to Hotmail so you never miss an email.  With push email get messages on your phone without delay. View folders in Hotmail, including subfolders, send receive attachments, and pictures Add multiple Hotmail accounts.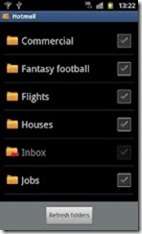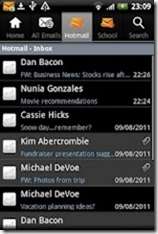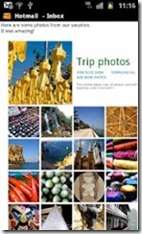 Download Hotmail App from here
Home, Office and Utility Apps
Android phone is able to do most of official internet or computer jobs. Here are the apps for you which will let you to do your jobs easily on phone.
Voice Search
Open Voice Search app on your phone and speak what you want. Search the web and your phone by voice and control your phone with Voice Actions. Quickly search your phone, the web, and nearby locations by speaking, instead of typing. Call your contacts, get directions, and control your phone with Voice Actions. Learn more about Voice Actions http://www.google.com/mobile/voice-actions/ .
Download Voice Search from here
Adobe Reader
Now read any type of PDF documents on your Android Phone or Tablets. Easily access, manage, and share a wide variety of PDF file types, including PDF Portfolios, password-protected documents, fillable forms, and Adobe LiveCycle® rights-managed PDF files.
Download Adobe Reader from here
Antivirus Apps
For secure your Android phone download one of Antivirus from list below –
File Manager
File Manager is best app for managing files on your android phone. It supports cut, copy, paste and cancellable progress dialog, List and grid view, compress or decompress files, searching files,  multiple selection and sorting files, root explorer for rooted devices, and other features.
Download File Manager Android app from here
Barcode Scanner
Scan any product barcode and search information related to product on Google product Search. This is really very good app for knowing more about product instantly online.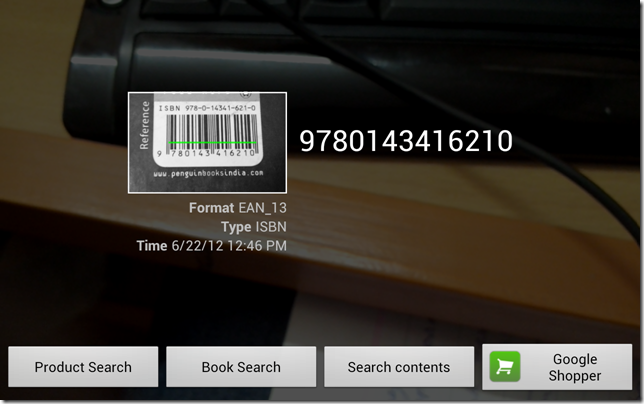 Download Barcode Scanner from here
Dropbox
Dropbox is a free service which let you bring all your photos, documents, videos and files anywhere. Any file saved to Dropbox will be available to of your devices. For example: If you saved files in Dropbox on your computer then it will be saved on your other devices too and online on Dropbox storage.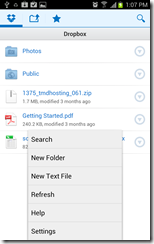 Download Dropbox App from here
Offline dictionaries
Offline dictionaries app is a offline dictionary, it means no internet connection required after installation of dictionaries on your android device. Read this article
Amazon Kindle
Amazon Kindle let you read more than 1 million books from Amazon store. If you like reading books then download this app and enjoy reading books on your android device.
Download Amazon Kindle from here
Kingsoft Office
Kingsoft office is a office solution on your Android mobile and Tablet. This is the best office application on Android. To learn more about Kingsoft office read this post.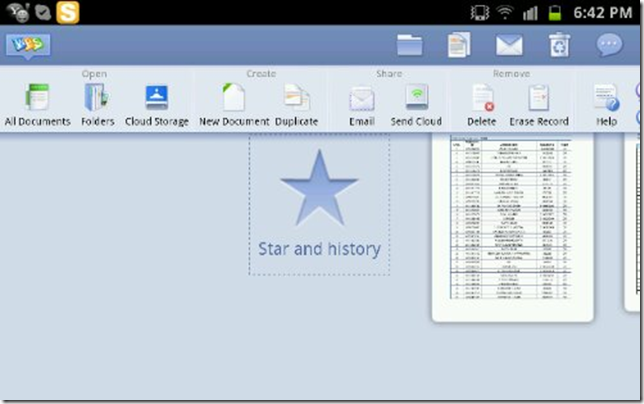 Download Kingsoft office App from here
Evernote
Evernote is an easy-to-use, free app that helps you remember everything across all of the devices you use. Stay organized, save your ideas and improve productivity. Evernote lets you take notes, capture photos, create to-do lists, record voice reminders–and makes these notes completely searchable, whether you are at home, at work, or on the go.
Download Evernote from here
APP Lock
App Lock help you to protect your device Apps. You can Protect installed apps using password or pattern.
Download App Lock App from here
QR Droid
QR codes are being used to share contact information like- links, geo-locations and more. Use your phone camera to scan QR code, create QR code from a contact or bookmark on your android phone and share with friends. Let your friends scan QR Code, Your information is transferred easily to your friends.
Download QR code reader from here
Music & Entertainment
Android phone comes with inbuilt music and video player for entertainment. You can enhance your entertainment experience with featured apps on your Android. Below are the Apps for music and Entertainment –
N7 Player
N7 Player is music player App for Android. It provides advanced music search option. It visualizes your music as single plane full album covers. You can zoom in, zoom out using multi-touch to see different view of music so you can quickly find the music you would like to play.
Download N7 Player from here
YouTube
YouTube comes preinstalled on almost of all Android devices. If your device didn't have YouTube then download YouTube. There are billions of videos on YouTube. Watch Music videos, Movies and trailers on YouTube free of cost.
Download YouTube from here
Netflix
Netflix is the world's leading subscription service for watching TV episodes and movies on your phone. This Netflix App provides best viewing experience anywhere, anytime. Netflix App is available in USA, Canada, Latin America, UK and Ireland. You can watch unlimited Movies and tv shows on monthly subscription to Netflix.
Download Netflix App from here
Google Play Movies
Rent movies on Google Play and view immediately utilizing the Google Play movies application. Decide from a lot of movies, combining brand new movies and HD titles in Google Play and stream them immediately on your Android device. You can Store movies offline and watch them later on your device.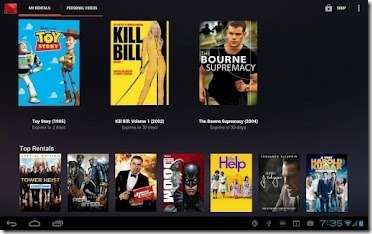 Download Google Play from here
MX Player
You can play any format video on your Android device. You no need to worry about video format, just get video to your device and play using MX player. It supports Subtitles and dual audio.
Download MX player App from here
Android Browsers
The Android browser comes with features like – multiple tabs, incognito mode to browser privately and sync Google Chrome bookmarks so all your favorite site are with you when you away from Computer. But there are variety of browsers whose will provide extra web surfing experience on Android device. Please read our blog post Best Android Web Browsers for Browsing Internet……
Above are the best android apps for browsing internet on mobile or Tablet.
Messaging, Voice and Video Call
Most used feature on smartphone is messaging, because every person can connect quickly using text, voice, and video chat. There are a few featured free (using internet) services which let you to communicate with others on your mobile device . Below are the best android apps for messaging –
Facebook Messenger
Nowadays most of people using Facebook, it is best option to communicate with friends, relatives and others. Facebook Messenger let you to text a friend, group conversation. You will get instant notification on your Android device when you get message from a friend. Share your location and photos directly from messenger App on your Android phone.
Download Facebook Messenger from here
Skype
Make free Skype-to-Skype video calls, and call phones at Skype rates on the move. Free voice and video calls to anyone else on Skype, whether they're on an Android, iPhone, Mac or PC, as well as IMs to your friends and family, no matter where they are.
Download Skype from here
Above are the best android apps I used on my Android phone or Tablet. If you missing a App in above list please mention about App in comments below.
[ssba]