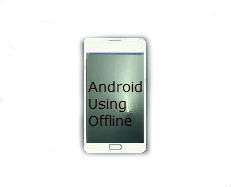 Modern high tech Smartphone and Tablets have enabled us to do creative and funny things easily. Mostly we love these devices to use with internet connectivity but sometime it become unavailable/difficult for us to use internet. There may be many reason for non availability of internet like limited data plans, temporary network issues, Network is unavailable at certain places like hills, jungle etc. As being habitual of Internet use with these devices we normally aren't aware about its offline uses. Here we have listed some of creative and fun things you can do offline with your Smartphone:-
1. Offline Game Apps:-Many game developers have focus on this fact that users may want to play their game apps in offline mode as well. To know this we need to first install app and testing if we could use it offline. Or secondly we can Google about offline playable game apps. There are some good suggestions available on tech blogs and forums.
2. Creativity with Photo fun Apps:-Our mind love seeing images and videos each and every time. In case you haven't internet connectivity you can take beautiful snaps of things happening around you. There are many things which are beautiful and happening continuously. Many android apps like as Snapseed, Photofunia, Cymera etc. will make you able to do many creativity on your Smartphone or Tablet.
3. Audio, Video Creativity and fun making:-You can't limit yourself in taking photos only. You can make live recording in videos, audio files of things happening interesting around you. As being human we all have different kind of interests and we should try to capture things which we love. It may be birds, tress, children, places, designs or any other thing as per your interest.
4. Offline stored E-book, Comics and Magazine Reading:-Your Smartphone or tablet is very handy device for carrying digital library with you all time. You can download E-books, comics and magazines directly from Internet or via Storage mediums as PC, memory card, flash drive etc. Having installed this kind digital material will make your device very useful when your device is offline.
5. Movies and Video files playing:-Album videos and offline movies stored in your Android device will entertain anytime you have non-internet connectivity. It is always wiser thing to have video and movie files stored in your Smartphone or Tablet. You can view things on larger screens as well connecting your smart devices to TV, Projectors, PC Monitor etc.
6. Office Task completion, Presentation making, Writing and Editing files:- There are many apps which will make your Smartphone or Tablet advanced in creating presentations, editing them. It is important option to use if you have missed some tasks at your office desk.
7. MP3 Songs and favorite Music track playing:-Music is a great way to reach on entertainment level with emotions. It is not only human who loves music, even birds express their moods by singing. Our digital life is making it much easier to play music tracks anytime anywhere. Your android Smartphone will entertain you by many high end audio and music playing apps whenever you haven't internet connection available.
8. Offline Dictionary App for translation:-Mostly we don't like to do word analysis on our Smartphone. But sometime it is best practice to do some learning in a time when internet is a issue. There are many offline dictionary apps available to work without internet.
9. Pre-installed Apps on Smartphone:-Today all popular Smartphone manufacturers are enhancing their products with software pluses. In this way apps are very popular these days. Companies are giving out pre-installed apps on Smartphone for better use. For example Samsung is providing its ChatOn messaging app pre-installed with its Android devices.
10. Wallpapers, Screensavers and Customizing Smartphone:-Our Android Smartphone and Tablets have become personalized things in current time. They are much like our personalized things such as watches, pens, bags etc. We all need different varieties and features in these personal things. The same rule is applying to Smartphone and Tablets. We all need them more & more customized as per our Interests. Users can do much more customizing things on Android devices whenever they are offline. It has wide options to customize like as wallpapers, screensavers, settings, views, displaying patterns, UI customizing, Rooting device & many more.
We have tried to include some things above which you can do offline. There are limitless things you can do with your android device. There are surely some creative ideas, tasks which you already doing apart the above list. Let us know in below comments which things you love to do when you haven't internet available on your Smartphone or Tablet.
[ssba]