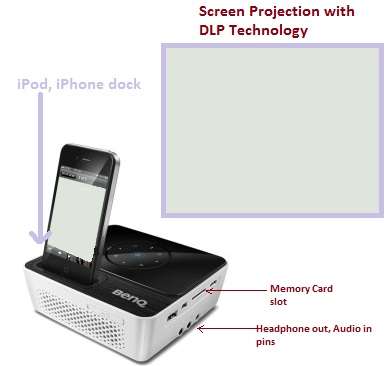 Cheers iPhone, iPod users because now BenQ has made possible more larger display experience for your device. BenQ has launched BenQ Joybee GP2 Projector with specially designed option for iPhone/iPod devices. This projector has come along with many features, which is as below:-
DLP Projection System:- This projector is based on DLP (Digital Light Processing) technology of modern projectors. Its coming with LED display type.
Good Furnishing body:-This projector has come with good furnishing body on top. It Looks smart physically.
Mini Size Portable:-Its mini size & portable Projector device. which having dock for iPhone/iPod devices
PC connectivity:- You can connect this projector easily with Computers/Laptops like as other projectors having this.
Quality features:- It has WXGA 1280Х800 Native Screen resolution With 1.07 Billion Colors display support.
Battery:- 3 hrs. Battery backup after full charged. You can charge this upto 300 cycles. Takes 3.5 in full charging from Low charged.
Video:- It supports AVI, MOV, MP4, 3gp, 3g2, FLV video formats with good quality display.
Music:- Supported music formats are MP3, MP2, APE, FLAC, OGG, WAV, m4a etc.
Photos:- You can project JPG, BMP, PNG type images via this projector.
Documents:- It supports Adobe PDF, MS PowerPoint, MS Excel, MS Word documents. So it covers all mostly official docs.
Memory Card Slot:- It has inbuilt Memory card slot. You can insert SD memory cards into it to make presentations.
On Screen Language display support :- 28 different country languages supported via this device in onscreen Display.
HD Ready:- Its HD compatible Projector. HD quality display is advanced feature of this projector.
Audio in, Headphone Out:- Its having Audio in, Headphone Out options to input audio or to listen in a Headset.
What accessories you will get with your BenQ Joybee GP2 Projector:- Remote Control with battery, Carry Bag, Adapter, USB Cable, Power Code, User Manual CD, Quick Start Guide, Warranty Card, CEA 30 pin cable has shown as accessory by BenQ. May be more depends on Dealer who selling.
How you will Experience Big with BenQ Joybee GP2 Projector on  your iPod/iPhone:-
Games:- No need to play your Angry birds game in small screen in iPhone screen. You have enough space to play it even with your family members using this projector device.
Movies:- You have cinema in your hand when you having BenQ Joybee GP2 Projector with you. Because you can simply project any movie on wall or board to view in a cinema type experience. All family members can sit around & can watch movies available in your Computer, Laptop, iPhone, iPhone on Big Screen. Simply you will feel Big experience with it. And Quality also stands with it.
Pictures:- You travel with your friends somewhere. can feel same thing again via this BenQ Joybee GP2 Projector. Big screen display will make you feel that all is happening again insight of you.
Document Presentations:- Now you can present all documents on this projector. Whether its simply tutoring your younger sister/brother or You presenting something official in a meeting BenQ Joybee GP2 Projector will do great for you.
Project Work:- Simply Create project work at your home. You can practice it home via viewing presentation again & again
Latest Devices Support:- It has support for iPhone/iPod devices. So its plus point of the device that it supporting current latest devices.
Best Quality Presentation:- Its portability & easy carrying is coming with best Quality of Projector.
If you are thinking for a printer having all modern features than it may be your best choice.  All your suggestion welcome related to the device.
[ssba]