We all have many tasks to do with Smartphones, tablets and Laptops in our daily routine. Many times we face low battery issue in our tech devices. Some services like WiFi connectivity, Video playing are causing faster battery drainage in our tech devices. These battery issues are ok to manage when we are at home or office. But when we have to go for outing for travel or business purpose it becomes trouble for us to have low battery at tech devices.
Tech innovators are experimenting day by day to improve battery backup with compact sizes adjustable to these tech devices. But as of now we need to have external portable battery charger solutions for limitless uses of these high end devices.Below we have listed some of external and traveler portable battery charger solutions as of now.
USB Portable Chargers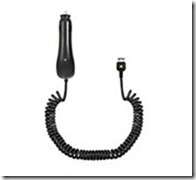 Go on popular online shopping portal which you love and search "USB portable charger", you will get result listing USB Chargers to buy from. Top Smartphone manufacturing Company Samsung is providing Mini USB portable Car charger as Smartphone Accessories. If you don't want to go for branded USB car charger for your travel needs, You can buy a cheap charger from local retailer. There are many local car chargers which have multiple charging pins to support many popular models of mobiles available in current market.
Portable Inverter for powering Tech Devices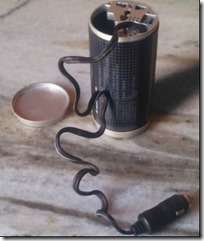 Using portable car inverter you can make available AC power for Laptop, Mobile, TV, Radio, Fan, Lightening CFLs and Bulbs, Desktop Computers, Hair Dryer etc. tech devices. In a case when there is no power source nearby, you can use your car inverter as temporary power source. It will provide you power as you get on normal inverters at home and office. It is really life saving tool in conditions where you got emergency for power. They are Economic to buy inverters to be used with your Car battery or any other battery 12v DC source for running this Inverter. As shown in image, my Car inverter gives me 2-3 hours power in any emergency if car engine is not start. There is no limit on this source if you have kept your Car start. It is smart solution for your temporary outing and traveling solution as external battery charger.
Mobile External battery Charger Pack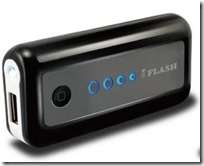 iFlash battery charger is  listed on Amazon (With AC Adapter) to buy in only $22.99. It is good solution for chargingiPhone, iPad and other top Smartphone models. In purchase you will get iFlash External Battery with 4 connectors for most phones and one extension charge cable. It  has slick design to make it ultra portable while travelling. You can put this easily in your pocket or Laptop/ipad Bags in easy way.
Laptop Charger Bags
For a travelling and tech geek person this kind solution is awesome to have bag packed battery charging solutions. These Laptop charger bags have inbuilt battery in them which is removable also. Plus you will have pockets to put devices for charging with these bags. Using these bags you will able to do your Smartphone and Tablet battery recharging while you doing rock climbing or horse riding. It is much attractive thing specially for youth who always love to have such tech innovations with them.
Tips for Battery saving while Car Driving
    Plug in Your Smartphone to Stereo of car via USB
    Connect to Mobile Charger to your Smartphone or Tablet when you are in car
    Disable WiFi/Bluetooth Connection While You Driving Car
    Make low Screen Brightness of Smartphone when you travelling, It will help in less battery consumption.
    Close all apps whose not being used While you are going for outing.
Summary
As of conclusion we should carry external portable battery charger solutions if we are going for travel and we need our tech devices to use there a lot. Second aspect is that we should also focus on battery power saving tips which may help us in getting more backup hours. There may be some other methods, tips, suggestions you are already following to save battery backup of your tech devices, Please don't hesitate to let know us in below comments.
[ssba]