Playing games on iPad or iPhone is very comfortable, entertaining, adventures. Playing games on these devices make feel us as we are playing it in live. There are many popular games for these devices. All kind category games have better experience with playing on these devices.
FLCommando
FLCommando is a shooting game which is specially designed for iPad or iPhone devices.  In this game you have role of a commander. Which have many missions to complete. Some of them are rescue related. Some are related to clear terrorist places with your courage & plans.
I have taken a few snaps of FLCommando game for you. Checkout the experience You will have with FLCommando – Shooting Game for your iPad or iPhone-
1. How to shoot Head of enemies in this game. This option will work best for enemy which is located at a distance.
2. Picture after you successfully headshot the enemy.
3. Using Second weapon to kill enemies. Is having 20 round fire to kill enemies. So lets round fire to kill quickly.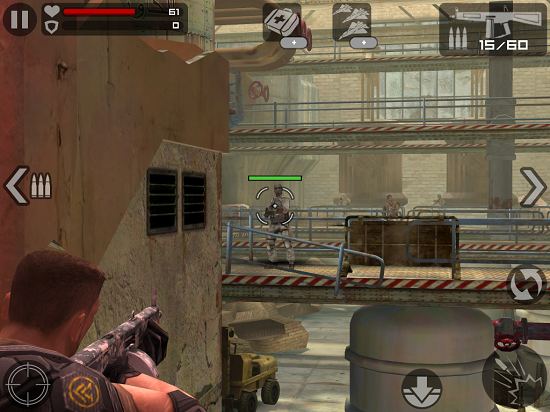 4. An Overview of missions you have to clear in the game. As per you clear a place , You will find more interesting places:-
What is the most interesting in this game:-
1. Different Types of Missions:- This game is having many kind of missions like as Rescue, One Man Army, Caravan, Sharpshooter. Each gaming place will have different situation for you to kill enemies & save your place or people.
2. Different Type of Weapons:- There are different type of Weapons in this game. You can get ASSAULT, SNIPER, Shotgun, Launcher etc. from game store via purchase. Two weapon out of 3 weapons are free of cost to use.
3. Shooting Head is great experience:-  When you are in a mission You have a button at downside of left. After selecting the option you can headshot any enemy as shown in above pictures.
4. Air Force killing:- In the mid screen top you see option of Airforce option to kill all enemies.
5. Medical health Kit:-  There is medical kit option available nearby Airforce button. It will make your commando recover again in health.
6. Doing great cause of A commando in the game:- Playing this game will feel you like you are saving your place & people by killing all enemies. And killing enemies is really a good experience for you.
7. Game is in both options free & paid:- This game is basically coming in free option to play. To enhance your playing experience you can purchase many items for better game.
8. Can play along with other friends over internet:- This game can be played with your friends also using internet.
9. Requires your plan to make successful a mission:- One main thing which I liked in this game is that we have to make a strategy for killing enemies. When to kill a enemy.
So what you have planned? If you are interested in playing this game, Simply download & install it on your iPad or iPhone. After playing let me know in below comments what you experienced with this game. Game is perfect for shooting games lover.
[ssba]