You would like to have dictionary on you iPhone/iPad, as you never know when you might need a dictionary in your life. If you are reading a novel, newspaper, or hearing news on the television or radio and found a word whose meaning you do not know then dictionary will be helpful for you.
Here is list of Free Dictionary Apps for iPhone and iPad (iOS) –
Dictionary.com is one of the best available Dictionary apps for the iPhone, and costs nothing. The app is available for iPhone,iPod Touch and iPad with IOS 3.1 and later.The free Dictionary.com app delivers trusted reference content from Dictionary.com and Thesaurus.com. No internet connection is required to search words. The app includes nearly 2,000,000 words, definitions, synonyms and antonyms. It also features audio pronunciation, voice-to-text search and Dictionary.com's popular Word of the Day and The Hot Word blog.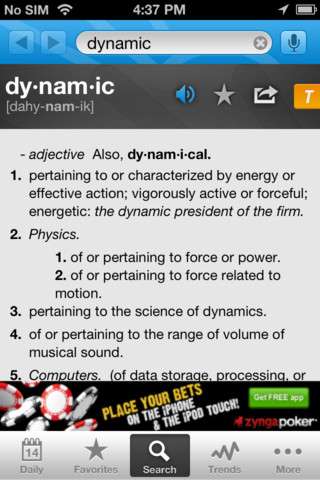 WordWeb dictionary database includes:
285,000 words, phrases and derived forms
225,000 word sense definitions
70,000 usage examples
85,000 text pronunciations
Synonyms and similar words
British and international English
A version with 70,000 professionally recorded audio pronunciations is available as a separate product. Additional features include the ability to drill down on any word in a definition, full bookmark support and history.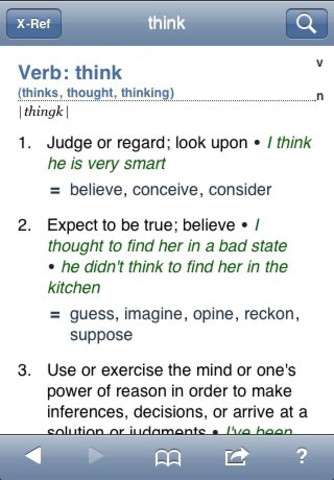 Merriam-Webster Dictionary is an iPhone versionof the online, helpful dictionary website by the same name. The app provides a colossal data bank of words and meanings, and also provides the user with the option to mark certain definitions as "favorite" and provides phonetics and audio playback of the word.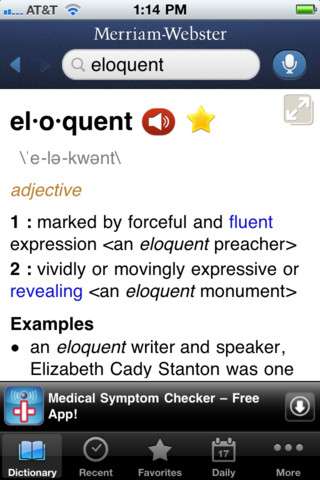 Currently, the Merriam-Webster app is available on the iPhone, iPod Touch and iPadwith iOS 3.0 and later.
Easy to use English Language Dictionary. You can find the meanings of english words. The dictionary also have the pronunciations of the words. You can find related expressions or words you searched for. This is very useful if you want to learn english, or just heard an unknown word.
Key features:
Word definitions
Pronunciations
Usage exaples
Related and similar words
History support
British and International English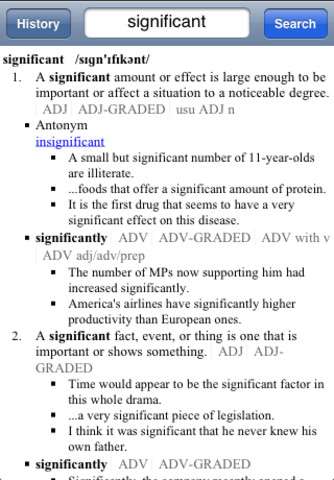 This dictionary is using a growing database on internet, so it needs internet connection.
The entire dictionary is installed on your phone! If you are offline or out of cell service, your app has 200k+ definitions right on your phone. If you have a connection you can look it up online for a more detailed definition. Built the way a dictionary should be!
Features:
200,000+ definitions
No Connection Required!
Advanced Spell Check
Short, Simple Definitions
Thesaurus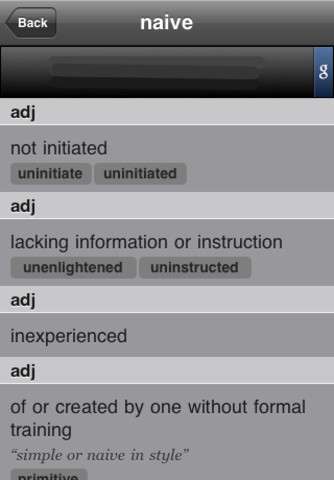 These are some of the most widely used dictionary free apps for iPhone.If you are travelling, or even if you are just going to your local library, we would suggest you to try out these dictionary apps, as they would surely help you out one day or another.
[ssba]