Let me tell you about Free Video Calling options between Android, iOS, Windows and Blackberry platforms. I am sharing my 3 years experience with these options.
I am user of Blackberry, Android, iOS and windows phone from past few years. All devices has different features with specific advances. Blackberry messenger allows us messaging between blackberry users. iOS iMessage and FaceTime gives video option to iOS users to communicate with each other.
It works good on separate platforms but problem occurs when we want communicate with different Mobile Operating Systems. For example if one want to make video call between blackberry to iOS user. Mostly user got confused about how to communicate with friends who didn't have same mobile OS. Every man has unique choice of mobile choosing.  It is not common that your friend will also use same Mobile OS? Here it demands the default application which lets you to communicate with your friends and family any time anywhere on any device. It should work seamless on Apple iPad, iPhone, Blackberry , Android Phone, windows OS.
Free Video Calling options between Android, iOS, Windows and Blackberry
Here is solution for cross mobile OS communicating like messages or video calling.
Below is a popular App available for all mobiles for video calling, text messaging, sharing pictures and videos :
Skype for Mobile or Tablets
Skype is best option for Video calling between all internet devices like computers, laptops, Android phones, iPhone, iPad. Hence install one app and communicate with friends and share easily pictures files. You will got notified by Skype if your friend send text message or invite you for video calling. Below is skype screenshots on different devices :
Above are Skype screenshots running on Apple iPad (iOS) and Samsung Galaxy Note (Android Phone).  This app is really very good video calling app for communicating with any type of mobile or computer operating system. Skype is available for all major Operating systems like Android, Apple iOS, Nokia Symbian, Windows mobile and Microsoft Windows or Mac OS. So it is very easy to communicate with Skype Video or Text messaging service.
Yahoo Messenger for Mobiles or Tablets
Yahoo messenger is also good option for video calling it is same as Skype for text messaging or video calling.
Below is screenshot of Yahoo Messenger running on Apple iPad and Android Phone.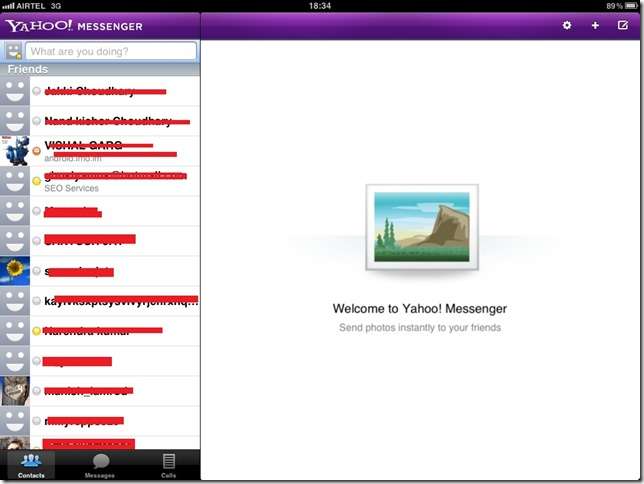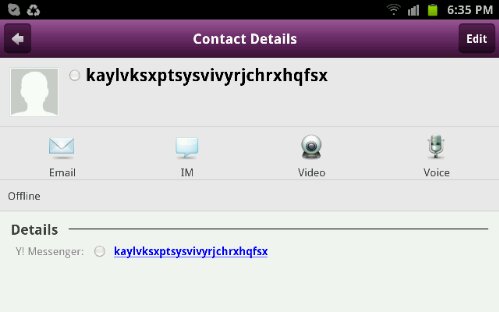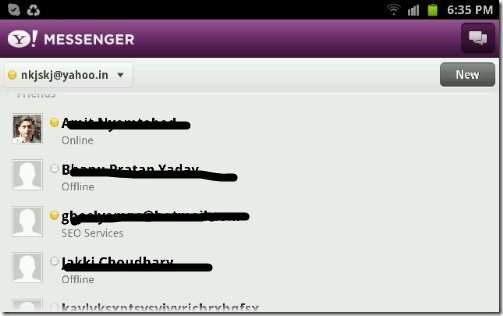 So above Messenger i listed is most used Apps for video calling and text messaging worldwide. These Apps impressed me too much and I am sure that these apps will also help you in video calling or text messaging between friends or family.
[ssba]