In first part of future Smartphone Technology you will love, we have found some interesting and hopeful innovations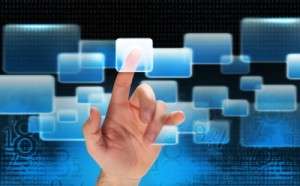 Image Credit: Pixomar via FreeDigitalPhotos.net
which may be possible in near future. In the same way below are some more ideas and possibilities in upcoming future in the technology area. These kind tech innovations will not only change how we will start using devices but also it will change the way we will start having such devices. We will no longer need to carry a Computer on beach for regular e-mail tasking, programming or office tasking. Even we will be able to do work sitting on a rock in Jungle.
I will like to call it Human UI as it will be operated mostly by human activities like voice, gesture, actions etc. Let's have a look over these possible tech things we will love to see in upcoming future:-
Voice search and UI functionality on Voice command
We already using this technology in form of Apple iOS Siri and Google now voice command feature in our Smartphone. Although currently it is in its starting phase, And we aren't getting as much we needed by this kind functionality. In coming time this kind functionality will be more smarter to operate whole Smartphone UI by more human activities like hand moving, walking, running, turning, voice commands etc. It will work more like your own secretary following your voice and making schedule for your daily routine. It will make Smartphone more useful more like a person to do work for you.
Wearable gadgets will come as all in one Solution
We have already Google Glass wearable device from Google. Which will help us in every moment of life we are seeing in real world. We can use this gadget along with doing our day to day tasks in easy way. Plus Google Glass no need to carry a computer to connect with it. As it is a self computing wearable device. Samsung also planning to make Samsung spectacles see source article for more information about Samsung's Spectacles planning. This is for sure opening doors for wearable devices development with advance features.
Second product in wearable gadgets is Smart watches from various electronic manufacturers. There is rumor about Apple iWatch gadget for your wrist. And there will be many innovations and improvement in current technologies we are seeing in Smart watches. These wearable gadgets may come as solution of computer, laptop, tablet, smartphone at your wrist.
Smartphone will Know your Mood
As Smartphones will be able to gain bio logical data of your body, They will start to analyze our mood and intention at specific situations. It will make Smartphones to play music according our mood. It will act knowing our mood to relax our mood. It will make Smartphone more than a machine. These Smartphone will work more like a friend to user. If you have any kind anger or frustration, smartphone will customize according your mood for its tasks. Plus it will let know your social contacts in real time how you feeling at that particular time.
IPS for Shopping and outing assistance
IPS (Indoor Positioning System) is a technology which locates a person in indoor areas like restaurants, shopping malls, cinema halls, campus area etc.  This technology will help us in easy shopping by analyzing our shopping related behavior data via IPS. It will try to assist us giving best deals and offers instantly for products we are looking. It will be also good solution for security thing in indoor places. And there are many more possibilities of using such kind technology. Its current development need more improvement in term of privacy and security assuring to users.
Global Language Translation feature
In future there will be language translator available on Smartphone which will be able to translate any global language to its users. It will not only make people to connect a larger community but also help them in communicating for making better social contacts. It will connect whole world using a single device and internet connectivity.
Your personal health care taker
In future Smartphone devices will able to track health measures like heartbeat, pluses, Blood Pressure, Body temperature etc. It will be measured in real time, So whenever Smartphone user will  have health issue they will get indication on their Smartphone. There may be possibility of common blood testing chip also with these Smartphones which will test user's blood for some kind common infections to identify the disease. Beside this Smartphone will guide you about burnt calories. It will assist users in doing necessary workout for health and fitness.
On Air Touch screen feature
We hope there will be on the air displays in coming future with similar technologies to holographic 3D display etc. There will be possibility of making on the air display touchscreen using. It will make no need of screens in near future Smartphones. There may be a stick or small matchbox type device in your pocket called Smartphone. for more information read this article display makes touchscreen out of thin air.
Internet on TV (Advanced IPTV concepts)
IPTV concept will go hike in upcoming years as shown in various researches. IPTV episodes from Netflix are doing great in current time. And Netflix is planning to make its original content double by year 2014. It will make users able to use Digital content subscription service rather than traditional Cable Network. Latest LED/LCD Smart TVs are making users able to surf internet, check e-mails and social connectivity on their screens. In coming time users will have much like experience of internet connectivity over TVs as they have on Computers and tablets.
Summary
We will be able to operate wearable and other kind tech hardware via Smart ways like voice commanding, gestures, moving, throwing & many more. We will no longer need to worry about e-mails, IMs watching TV because of IPTVs. IPS technology will bring new kind shopping experience for us in shopping malls. Overall there is possibility of using mostly automation in our day to day life tasking with latest tech devices. And if robots will be developed in smart way they will do human tasks as well, which may lead us to live virtual lives as well.
[ssba]