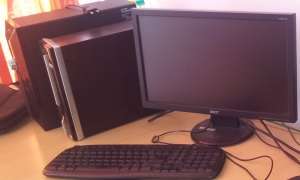 We all need fast running device in current time whether it is computer or handheld device. Any device which runs slow in current time irritates us. It leads us to disappointment for personal or business computing. To avoid this situation we need regular maintaining of our Computers. Most of us use Windows computer OS for personal desktop experience. It requires our attention for better performance in longer run. If We continue to do required task, It will work smoothly.
We have found 20 tips about How to make your computer run Faster
1. High Computer hardware resource uses:—We have to look out programs and processes which are using more hardware resources like as RAM, CPU etc. Task manager option will help you in managing all these things.
2. Storage hard disk space – Delete movies, audio, video files which is not so important for you but using a lot space on your computer hard drives.
3. Viruses and infected programs:- Making your computer virus, adware, malware free is key for faster computer running experience. If you have Windows 8 you can manage it via Windows Defender.
4. Device Drivers:- Device manager hardware driver status. Driver not installed? Driver is not supported? Is there a program and its driver installed in your computer which you will no longer use? Like as USB Datacard.
5. Window status messages:– Is there any kind update pending? Any critical error showing on system? You should follow the messages shown by Windows.

6. Auto Run Programs:- Stop program auto run which you rarely use as Adobe reader, etc. Unnecessary messenger, sync app, other tools are running automatically? If yes you need to stop them.
7. Registry cleaner:- It is good way to make your computer running faster. But you need to be cautious in fixing registry cleaners.
8. Defragment computer Disks:- Computer hard drives need regular defragmentation for better working. It reduces the burden for hard disk in writing & reading.
9. One running program is causing slow running?  You can stop that particular program or restart for better running of your PC.
10. Bluetooth And WiFi:- These are not often needed Network applications for you? As Bluetooth, Wifi etc.. in a case you need them rarely  you don't need them to run automatically.
11. Non-Compatible Program:-Is there any program which is having compatibility issue with your current window version. It is better to uninstall those programs or finding a program which is compatible with your current version of windows.
12. Brand Updates:- Is your Laptop/Desktop computer brand(e.g. Samsung, HP) is pushing some kind updates for software? You can update some drivers from brand updates for better experience.
13. Un – organized computer files and folders:- It is not about system slowing. It is about navigation time-wasting of a user who want to use files over computer. Organizing Computer files and folders in proper way will surely make you to run computer more faster.
14. Desktop Background and Screensavers:- Don't place heavy or animated desktop backgrounds which cause your computer slow running.
15. Computer Scan & Backup process:- Schedule Computer Scanning And backup task in hours when you use computer very less.
16. Eject CD/DVD from computer disk drives when you not using them. Keeping those in computer will cause your computer to run slow.
17. Upgrading Hardware:- Upgrade your computer hardware components if required. Such as RAM, Hard Disk etc.
18. Device not recognized:- Reconnect any attached USB or Serial port devices showing as Device not recognized status in computer. If there is software bug for that program, Reinstall program to fix it.
19. Fresh Window Installation:- After some years. It is recommended to reinstall windows for better computer running. It is common thing we can see that using windows for longer time cause running it slow. So we should go with fresh installation again.
20. Startup Program:- Startup Programs may cause slow computer run. You can disable them for better running of computer.
There are many small actions we can do for your computers to run faster them. It helps in better computing experience and saves a lot of time. If you have any particular suggestion for making computers faster let us know we will be happy to add that valuable suggestion here in comments.
[ssba]