How to Resize Images on Windows -Best Way to Resize without losing image quality, Convert images in just a single click. Below i will describe briefly how to convert Images quickly on windows.
If you don't want to Install any software on your computer then you should go to http://www.resizeyourimage.com/ and http://www.shrinkpictures.com/ . These website provide service for image resizing online but if you want images instantly on windows then read below about how to resize images on windows for free.
I found a windows tool to resize images on windows in just a single Click for free. Download Light Image Resizer . After downloading install Light Image Resizer software on your computer. After complete installation right click on image which you want to resize then Click on Light Image Resizer as seen below in image-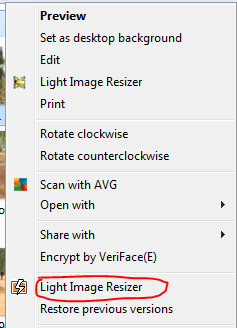 After clicking you will get warning of registration of software wait for 2-3 seconds (this tool is free) then continue button will be active, Click Continue and choose image profile from dropdown and click on proceed. Now your Image is converted to destination folder you selected.
For Convert multiple images select images you want to convert then right click and choose profile and proceed, your all selected images will be converted to destination folder. This tool is free for personal use, if you want commercial purpose you should buy this tool. Below is images gallery  which i have converted using this tool.
If you have any questions then you can ask them below in comments.
[ssba]