We all know importance of Organizing things in our daily life. The same rule works fine even in digital world as well. We should always keep our computer files & folders in a organized way. Today we will discuss about how to organize folders by giving them specific folder Icons. You can see example of organized folders by custom Icons in below picture:-
Need of icons to choose for folders?
It is helpful to identify folder within many folders seeing icon of folder. Any folder can given unique icon as per choice of user which will let them find folder easily.
It makes your computer viewing experience more beautiful & clearer. No more same boring folder icon viewing in your computer.
It makes your browsing experience more user friendly. It increases your speed of using computer.
These Icons are making look of our Computer more clear & attractive.
How to Plan for choosing Icons for folders?
Generally people do organize their same file types in a folder. So we should consider to select icon for a folder which is more near to that specific file type. For example we put Mp3 folder name for main folder which having audio songs folders in it. We should try to give best matching folder icon for specific folder. Below is few of file types to select specific folder icons (Shown in above image as well):-
Movie Icon for Movie folders
Monitor & app Icon for Software folder
Small pictures icon for photos folder
Disk & audio symbol Icon for Audio file folders
Movie reel & audio Symbol for Video songs folder
Camera Icon for folders having pictures taken by Camera
Text Icon 'A' Shown on folder for Text Folder
Recycle bean Icon for Junk folders
Lock Icon for Secure files
Internet Explorer Icon for Internet related file folders
Handycam Icon for folder which having Recorded videos by Handycam.
How to Set Icons for folders?
Setting custom Folder icon process is very simply. Follow below steps:-
Simply right click on any folder for which you want to change icon.
Next step is to click properties out of shown options. Now select Customize tab above. This will look like this:-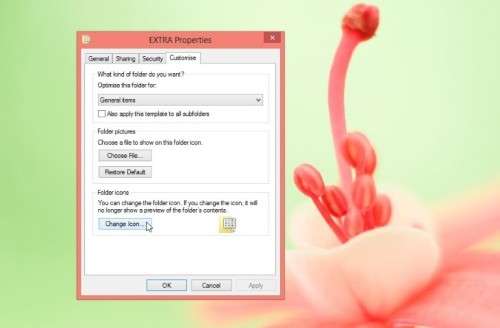 3. Next step is to select change Icon option there shown as in above picture. It will show you all available Icons to select for that folder. Now select any Icon out of the collection to use for that folder. After selecting click ok, apply it & select Ok. See in below image how to do it:-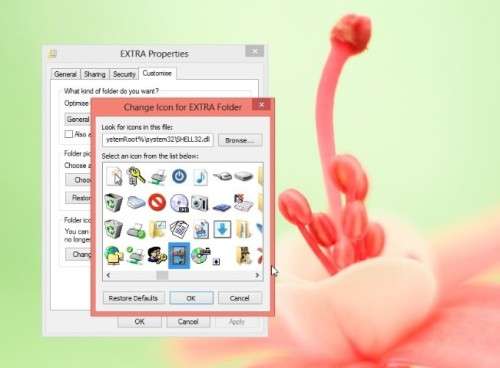 Now your folder Icon has been changed as per your selection. If still it not showing you that Icon for folder, Refresh your computer it will start showing that Icon.
Thus you can organize all folders in your computer as per your own selection out of the available folder icons. You have plenty of options available there to choose from. Or you can download more icons from various websites offering these. Let us know in below comments if you have any query about it.
[ssba]