Microsoft Windows 8 Pro is available in market for upgrade and Windows RT for Tablets (pre-installed). If you upgraded your pc to Windows 8 Pro or Purchased Windows 8 Tablets the you got very new interface on your windows 8 computer or Windows 8 RT Tablet. Here is my past 6 months experience with Windows 8 (Because i installed Windows 8 Consumer preview) which will help you to do faster jobs on Windows 8.
Quick Open or Switching between Programs and Desktop
In Windows 8 it is very easy to  open or switch desktop and Apps. If you want start menu just press Windows key on your keyboard, Press again to switch to desktop (or use windows key + D).  For opening a App quickly just press Windows Key and start typing App name and press enter.
Example:- I want open Google chrome browser on Windows 8 then it is very hard to select app from a lot of apps. So press windows key and start typing app name "chrome".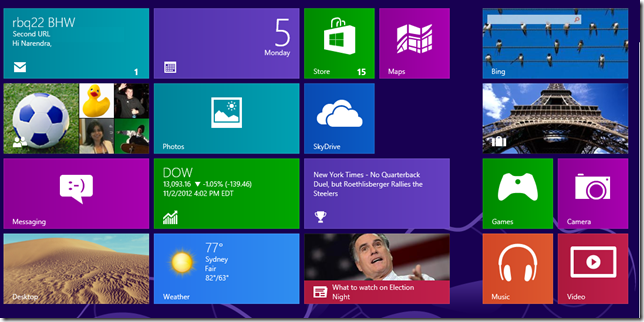 App search results showing Google chrome just hit enter Google chrome is open. It takes maximum 2 second to open App on windows 8 (Press win key then start typing App name and hit enter).
To open other program press Windows key and start typing that app name, select and hit enter it is so easy.
Other Shortcuts of Windows 8
Windows Key + E- To open windows explorer "My Computer".
Windows Key + C – To open side bar which contains setting, devices, start, search and date time.
Windows Key + Tab – Switch between Apps
Windows Key + PrintScreen – For taking windows snapshot.
Windows Key + I – Open setting menu.
And others you know already on previous version of windows?
If you have any questions you can ask them in comments.
[ssba]