You need all of your work Synced between all of your computers then you should try windows Sync tool. It sync all changes made between computers in windows. After having sync tool you didn't need any removable disk to transfer data between your own computers just pair your folders in sync utility tool. Sync tool is useful for single computer, if work is being saved on "My documents" folder and you want to secure all updated data on your hard drive's another part (as "My Documents" folder in D: drive) then sync tool automatic updates.
Some time before i was manually copying my files to all of my computers because i wasn't aware about SyncToy. I need all those updated files on my all computers using my LAN connection.  So i found a solution from Microsoft which provides a software which handle's updates between computers. Now this tool auto sync my  all folders updated regularly. The most benefit of this tool is that when suddenly electricity gone then my data is secured in all computers Or i didn't need any file backup because it sync all paired folders between laptop & desktop.
How To Sync Files and Folders Between Computers With Windows SyncToy :-
Sync folders on Same Computer

Sync Folders on another Computer using LAN or WLAN
Installation & Setting for Sync Folder's on Same Computer:
For start using sync first you need to Download SyncToy From Microsoft.
After downloading Follow these Steps:-
Install SyncToy On your Computer's you want to sync.
After Installing SyncToy Open it from Start Menu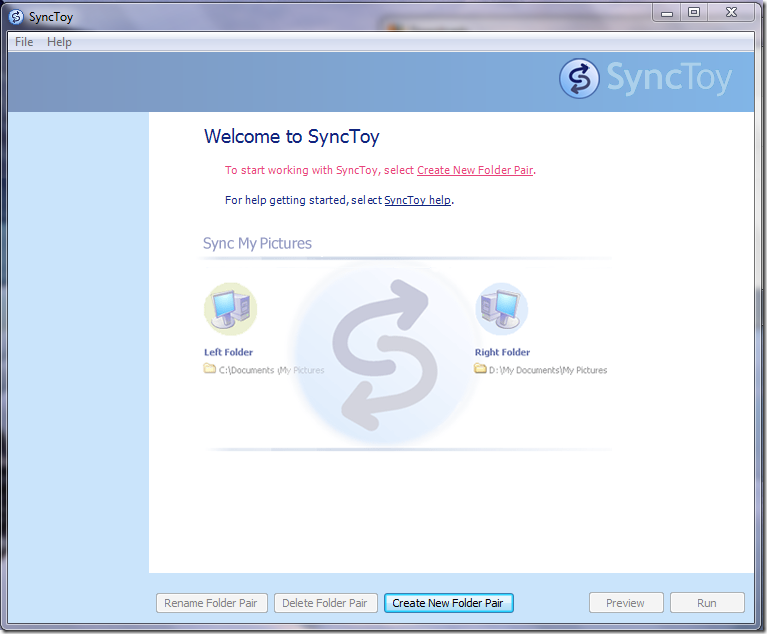 Click on "Create New Folder Pair" Then choose Browse Left folder and choose folder you want to sync As i have selected "My Documents" Click "OK" button, See image Below:-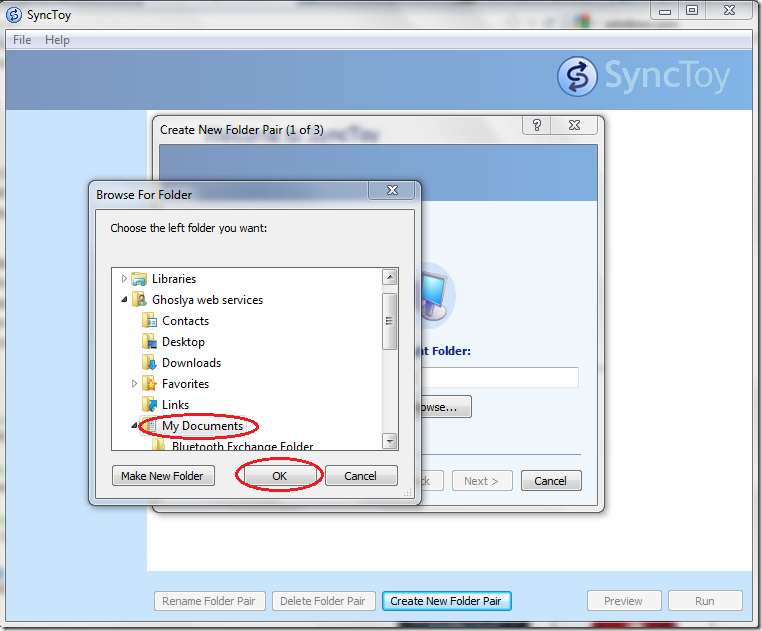 Now you Need to Choose right folder in SyncToy and Click Ok, I have Created new folder Named "My_doc_backup" in D:  drive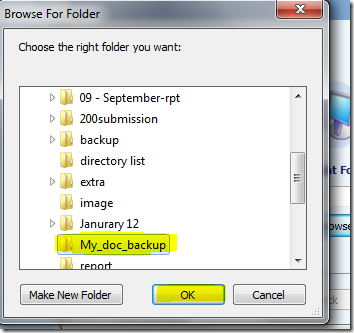 Below are Both folders Selected that we want to Sync as seen below in image:-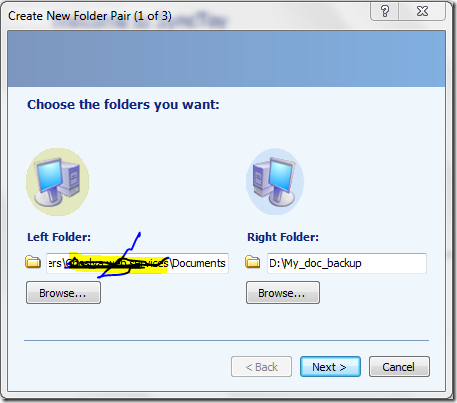 Click Next now you have Three Options to Select, Select Best option suits your needs ( i selected Synchronize ) Every radio button selection shows short explanation to understand which is suitable for you choose these options carefully. Click Next Name your paired folder and just finish. Now you can Preview your files will be copied or changed in sync or if you found suitable preview then run sync. You need to run sync manually or you can Schedule Microsoft SyncToy.
Sync Folders on another Computer using LAN or WLAN :
For sync folders using LAN or WLAN you need to start folder sharing of folder which you want to sync. Choose Left Folder as i selected "My Documents" then you need to  choose Right Folder for choosing right folder click Browse button then Click on "Network"  after it choose computer on your network as i found my "Compaq Laptop" and Select shared folder you want to sync as i selected "Sliq_compaq".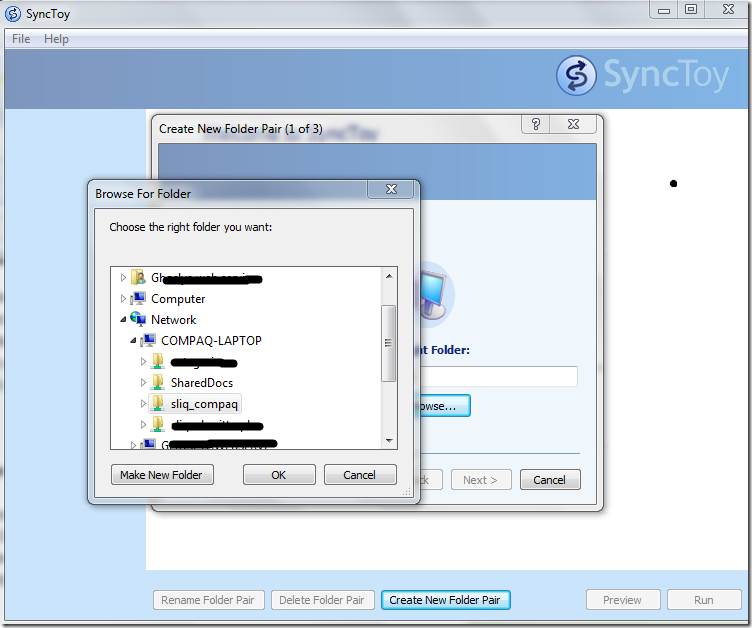 Now follow Steps your network folder is added to your Synctoy.
If you have any questions ask in comments i will be happy to reply your questions.
[ssba]