Are you new user for windows 8? In this case, you will got confused first time when using windows 8 on your computer or Tablet. The one of problem you will face is How to Uninstall Apps (Software) from Windows 8. You can uninstall software from control panel > Programs > Uninstall a program. But here I am going to tell you about how to go to control panel. There is another easiest way to uninstall a software (apps) from your windows 8 Computer. To do Uninstalling Apps  is easy in windows 8. Below are the tutorials about how to Uninstall a App (software) from Windows 8. This tutorial is for Windows 8 Developer Preview :
How to Uninstall Apps from Windows 8 using Start Menu
It is an easiest way to remove software from windows 8 computer. To do so go to Start Menu by pressing Windows key. After that right click on Software (App) you want to uninstall from your computer. Now click on Uninstall Below from Options. Here you will need to Follow uninstalling steps to remove software.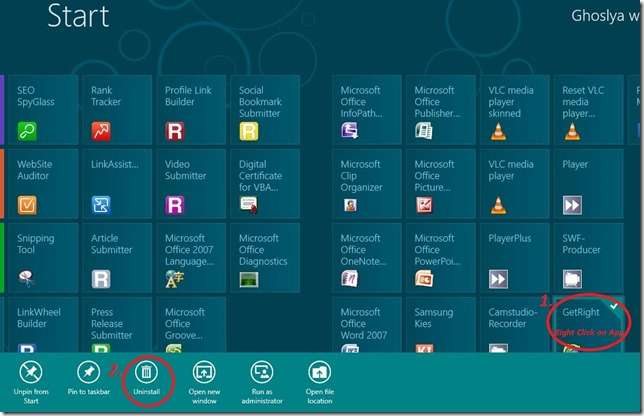 (See step 1,2 in Picture Above)
How to Uninstall Apps from Windows 8 using Control Panel
Go to Control Panel > Programs > Uninstall a Program
For quick opening control Panel press windows Key on your keyboard. Then start typing "Control Panel" you will see control panel in search results.  Now select program you want to uninstall from your computer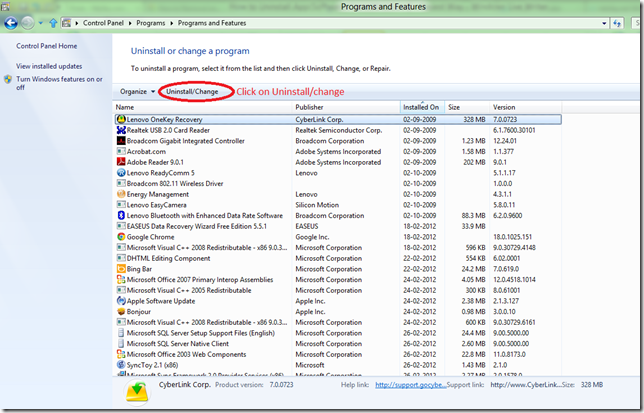 After selecting program click on Uninstall/Change. Now follow Uninstalling steps to Uninstall program.
For Touchscreen Users how to Uninstall Software on Windows 8
If you're using a touchscreen device for windows 8, the process is slightly different.  Because you can't right click on a touch screen. All you have to do is simply little swipe on the apps tile that you want to uninstall. Then you'll be presented with the same uninstall bar as in the  first screenshot above.
So first method is best to uninstall program easily. I liked that step and it helps me saving time for other stuffs. Here are the more tips for using windows 8 more effectively. How to Speed Up on Windows 8 with Shortcuts .
If you still have problems you can discuss below in comments.
[ssba]