We all love to use headphones.  You can use voice control to text on your devices. To make voice search click icon at right hand corner of Google search box. By this feature you can type words by voice to search in Google. It works in your devices. We can say this technology as voice dictation to text conversion.
A decade ago it was hard to imagine that computer will be able to read characters from documents. But OCR (Optical Character Recognition) Software made it possible. There are some other methods also used in similar operations. For example computer calculates marks obtained by a student on a answer sheet. It is done via scanning documents dots on OMR sheets.
Various Input Technologies used for devices
It is one step advance input method by Voice in Computers(Now our Smartphones can deal much like a PC). Traditionally we have used Input method by devices like Mouse, Keyboard, and Joystick only. Now we can input via Voice and Video also. We can not only input via voice but also via images and videos on a camera. For example Microsoft's Xbox One game console accepts video/image inputs via hand gestures in front of the camera of the device. It made us smart enough in using technology.
How you can use voice control to text
Voice Dictation technology
Voice control is a method in which a person can input text or command tasks on a particular device using his voice. In other words it interacts with a person like human interaction. Listening, speaking and writing according the conversation.
Apple's SiRi program is one of the most popular program in Voice Dictation Technology. It makes users able to search and type text using the Siri. Siri is enough in understanding words & providing accurate results. Although it is not easy for person who doesn't has native accent for particular language to input on it. You can also use Voice command function on Galaxy not series Smartphone via long pressing home button. It will pop up options saying "Hi, Galaxy". In it you can input commands to run various programs over Smartphone.
For example an English speaking person from India will need to try cautiously to input in Siri via Voice dictation. For a little practice this problem will be resolved.
How you can use voice dictation for typing purpose on Smartphone.
For Android Smartphone
Speech to Text app- Install this app from here. After opening it will ask you to select an option like shown in below image.
Here you have to continue via selecting Google Text-to-speech engine (click on always button).
After this it will open like this.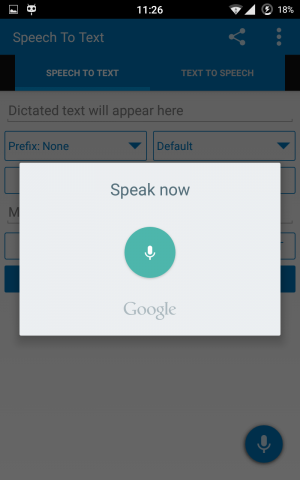 Here you can say something in your voice to type as text.  After completing the task you can send SMS or email using that text. It is easy handy app to send SMS and email if you can't type it.
For iOS devices
Long press home button on your iPhone to use Siri voice interactions. It let you entertain a while. It will help you in operating Smartphone as per your requirement. I have attached my trial with conversation to Apple Siri. It entertain and help you in using Smartphone at most.
For Windows 8 devices
You can use Speech recognition on Windows devices via searching for "Windows Speech Recognition". It will open a setup wizard for it. Here you can select preferred options to use speech dictation. It will open like this.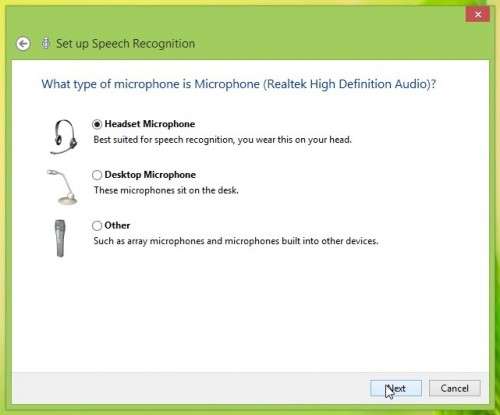 After complete setup on wizard it will show you dialogue box for taking a tutorial. Here is what it will look like when it starts running:-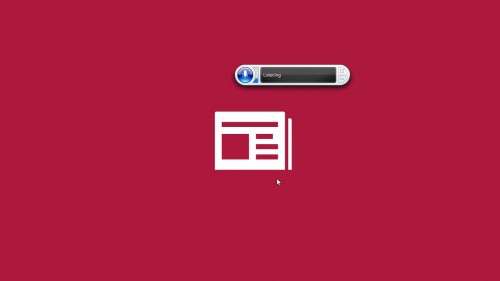 I had given it voice command "Start". And it opened start app panel. Then I given command it to "up" , "down" and it moved selection in start panel. Then I given it command "news" and it opened news app like above image.
Again I have to say you that you need to practice a little according the accent to make it work properly. If you use this in a silent and less noisy place it will work fine.  You can use these apps to enhance your experience with these devices.
Let me know below in comments if you have any questions, suggestion or feedback about voice dictation technologies.
[ssba]