Apple Previewed its latest iOS 6 on monday, it adds more than 200 new features to its most advanced mobile operating system iOS. Currently iOS 6 is in beta version. It will be launched later this fall. Apple claims that he is adding 200+ more features to iOS 6, including Siri enhancements and Facebook updates. Below are the main iOS 6 Features:
Improved Maps

Apple removed Google maps in iOS 6 mobile OS. Now apple is using self designed maps, Maps will give you turn by turn spoken direction on the move, maps are designed in 3D Views, and the stunning Flyover feature.  Apple maps are completely re-imagined by Apple, maps graphics are clear,  panning and zooming is smooth and responsive. Find and set your destination on your iOS device, it will guide your turn-by-turn spoken directions, a 3D view, and real time traffic information on driving. It is something like OVI maps, which already have these features beside 3D view.
Siri

Siri is voice driven personal assistant, it was arrived 8 months ago with iPhone 4s. Siri is enhanced in iOS 6, as you can ask about sports score and stats because it knows baseball, basketball, football, soccer, and hockey. Siri makes social networking easier as you can update your facebook and twitter, Post on your wall or tweet using Siri.
Siri helps you to find restaurant when you need food or recreation, tell the siri it will help you to find restaurants by cuisine, price, location, outdoor seating, or a combination of choices. Siri will show you a restaurant's photos, price range, and reviews.
Siri will help you to find latest movies on your location and showtimes, you can watch movie trailer or a Rotten Tomatoes review. You can also know more about movie as who is actor, director and what is review of movie.
Integrated Facebook

In iOS 6 facebook will be integrated so that you can connect with your friends, family and others. There is no need to leave app to do it. Share photos directly from camera or photos. Post your location update right from inbuilt maps app.  Post your highest score on facebook directly from game center. You need to sign in facebook only once, and you will be able to share everything on your iOS devices. It will remind birthday, facebook events are integrated into your iOS device calendar.
Passbook
Store your passes, movie tickets, retail coupons, loyalty cards, and more are now all in one place. Passbook let you scan your iPhone or iPod touch to check in for a flight, get into a movie, and redeem a coupon. You can also see when your coupons expire, where your concert seats are, and the balance left on your card. Set location for passes and your passes will be on your iPhone or iPod screen where you are on that location. Passbook will alert you on location where you can use passbook app.
FaceTime
FaceTime now will work on cellular networks as it works on Wi-Fi, so you can make and receive FaceTime calls anywhere. In iOS 6, you can make FacTime calls on your iPad using phone number. That means you can use FaceTime anytime, anywhere, on any device.
Phone
iOS 6 adds some features like decline call with message, and remind me later when you don't want to pick a phone call. If you don't want phone calls then turn on Do Not Disturb and you won't be bothered by anyone — except can't-miss contacts like your boss or your better half.
Mail

In iOS 6 mail will add support for VIPs like Mountain Lion OS. Mark someone as a VIP, and  you will get quick notification on lock screen when their messages arrive, just like a text message. And you will get VIP emails in special VIP folder in mailbox.  Mail also makes it easier to insert photos and videos as you compose messages. Also new is the ability to open password-protected Office files from within Mail. And Mail also adds the now-familiar pull-to-refresh option to update your inbox.
Safari
With Mountain Lion, your iOS devices will sync your open tabs, bookmarks with iCloud, so the sites you visited on you one device will be accessible on other apple devices. You find some useful information then you can save them for offline reading and it will be accessible offline anytime you want  read it. On your iPhone you can view webpage in full screen within a tap.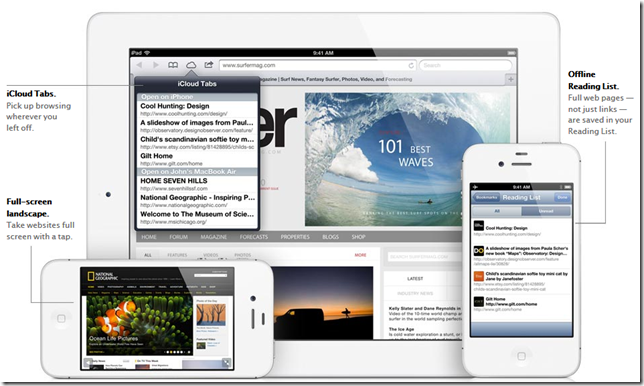 Photo Stream
You can share desired photos to your friends, just select photos you want to share with friends, choose your friends and share with them. Your friends will receive push notification on their device screen, and photos will appear in an album in the Photos app. Friends can also comment on your shared photos.
Other details
iOS 6 Improved privacy controls to contacts or calendars, redesigned app store with new app buying features. Per account signature in email, Lost Mode for Find My iPhone which is currently available as external option.
Developers preview version was released on Monday. It supports iPhone 3GS and iPad 2, The New iPad, 4th generation iPod touch and iPhone 4s. First version of iPad will not get this update. So if you have first generation iPad than you need to buy new iPad.
[ssba]