Technology changes as time passes, It comes with something new & innovative things. Smartphones are requirement of current time. Before sometime people look for camera, Bluetooth, physical appearance in a phone quality. But now people looking for the OS on which the smartphone is running. Latest mobile needed selection between iOS or android phones.
iOS vs Android – Why to Select Android Smartphone These Days?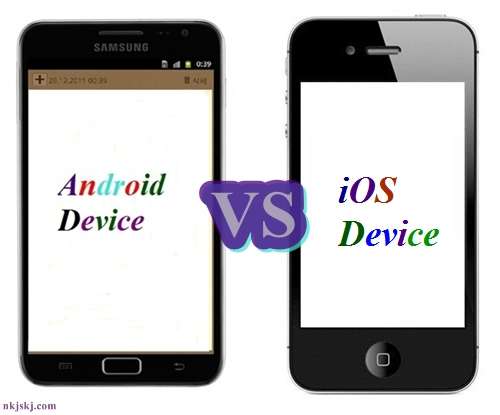 In last year people was confident only about apple iPhone smartphone only. This year android is booming. So what is special coming with Android devices so its being competitive for iOS:-
Worldwide App  Developers Support:-Android OS has open to all developers to contribute in App developing. Apple has limited developers to develop apps. There are many apps available for android phone which makes it different than iOS & important as well.
Easy Navigation:- Android has easy navigation within phone to browse mail, send message, call, video playing, music listening etc. All tasks can be done easily moving your fingers over the smartphone screen. It's the best we can get in current market.
Smarter E-mail Browsing, Responding:-Android phones having smarter e-mail browsing, sending e-mails, forwarding, attaching & all are done in a simple manner. You can e-mail your picture,  video, report etc. directly from your smartphone in this OS. No business can be handled in current market without e-mail feature.
Google Services support:- Android platform has been developed with Google co operations. So Google has implemented many service with it in a easy way. Currently people are addicted of Google services like as Google Search, Gmail service etc. , So providing these services along with  android devices make them more useful for users to do something creative. No one wants headache in current time. So why I need to browse Google.com typing in browser & then do search, When I have already it seeing on screen available to directly type & do search.
Better Social Network Connectivity:- In a small village of India people are using Facebook to connect with friends, finding some nearby cool friends. In the time when people getting connected via social networking sites even they are based on rural areas. No one can ignore power of social networking. Android devices are coming with more advanced apps to do community networking in a easy way. Facebook, twitter & all major are supported via Android platform.
Free Android OS for smartphones:- Android is a free to use software available for use rather than iOS which is very costly for users. iOS devices are very costly because of their unique OS they have.
Cheaper than iOS devices:- Android devices are more cheaper than iOS devices. Today I can get a android phone in only $100 and on other side iOS phone is not cheaper than $400 approx. So this major price difference will surely make Android boom in community of people who are not so rich.
Better Internet & other Connectivity:- Android devices have better internet connectivity, Wireless connectivity for the devices. They are very fast in connecting with networks. It makes them perfect in use with no time.
As per reports coming in current days, Android is the future of smartphones. Although its too early to predict something like as this. Android devices make possible more people to get advanced smartphones in their palm at very low prices. Major App support, Google services make it more advanced in smartphone queue.
[ssba]