Initially CyanogenMod was modifications over Android OS's to enhance user experiences. It grown rapidly enough to become custom OS itself. It has large community contributions by developers all over the world. It provides users make their own smartphone OS as per their individual requirements. CyanogenMod concept got popularity because of the fact that Every user wants to customize their smartphone to fullest.
Well, it is scientific proven that there is every human is unique. How Android expected to follow everyone with the same look? Everyone want it differently. Popularity of CyanogenMod is prove of this fact.
The open source community based development of CyanogenMod has now turned in a profit making company. Although some users are not satisfied with the news. It is normal to see profit making in almost every organization but the some community members didn't expected it when they joined it. It is still good to see commercial custom OS for smartphones.
Know Risks and Cautions before installing CyanogenMod on your Smartphone?
Rooting will cause Warranty expiration.
Plug device to charging. Checking available battery % remaining.
How to Install CyanogenMod on your Android OS Smartphone?
First option is to buy already installed Smartphone.
Second option is Step by step guide to install it.
How I installed it on my Smartphone Galaxy Note 
Bravo, you are tech expert now. It is one of the most techie experiences you will have to upgrade your smartphone. I just read today that experiences count more than using things. So go ahead and have an experience with your smartphone.
Installer on Smartphone-
Visit here http://beta.download.cyanogenmod.org/install via your Smartphone. It will ask you to install it like this:-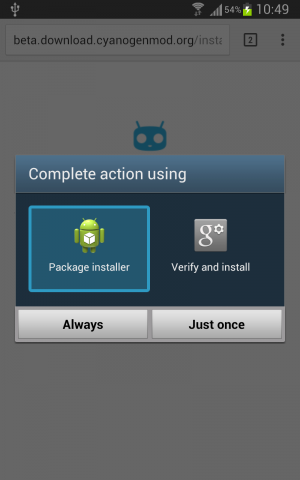 After successfully install it will show like this:-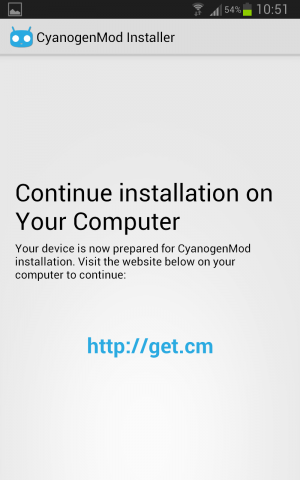 Now connect your Smartphone to PC using USB cable.  Follow the instructions shown in above image. Patience is your key here. You have to wait 10+ minutes in installing it over PC. As I did it over Windows 8 computer it kept me waiting for almost 10+ minutes. Seriously it worth the waiting time, it is nothing in comparison you are going to experience on your smartphone after installing it. My advice is engage yourself in some other task for at least 15 minutes while doing this process.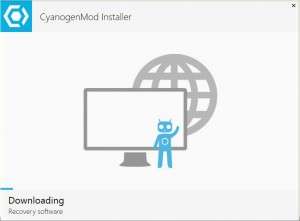 Ah, finally ignore this warning & continue with installing it.
Something went wrong it shown me error. And now I have to restart the process. Have to again face the same hurdle? Let's check it again.  Opening again installer from where it is downloaded on PC. This time things are going fast. Ah, saved from wait period. It is working now. Hurray… We are close to make it happen.
Excitement is going again to see wait period again. I don't think I have another way to do this. So waiting patiently is only option for me. (Please note it was due to 2 mbps broadband connection, in your case it may be superfast if broadband is superfast). I am still waiting for Reliance Jio 4G launches. Hopefully it will provide high quality broadband service in India. With above connection it took about 30+ minutes in downloading it.
Error – We can't talk back to your device. Choose another computer or disable anti virus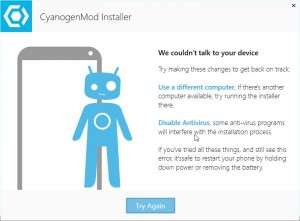 On computer. You can restart smartphone by hard pressing power button. Again it didn't work. So I Closed windows installer program and reopened it. This time it is working fine. So don't worry if it happens to you. And it is installed successfully.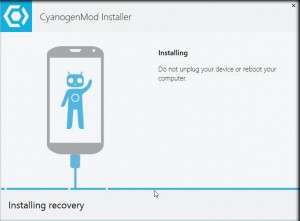 You will require to do these tasks again like new Adding wifi login, Create a profile account on CyanogenMod and login to Google Play store account. You will also need to install apps again.
Here is how CyanogenMod will look on your Smartphone(To grab this screenshot for you I used Power hold + volume key down pressing.)  You can see how my oldie Galaxy Note got new life using CyanogenMod.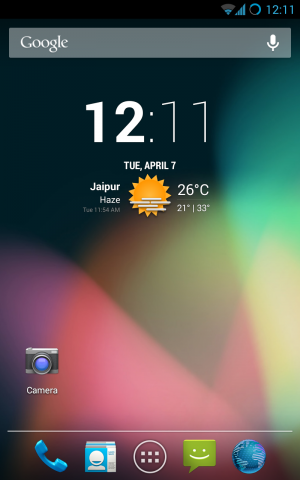 How it given benefit to Smartphone users & to growing Phone selling companies business?
It is breaking monopoly of top two Mobile OS leaders(android, iOs) around the World.
It make possible economic Smartphone development with more features.
It has custom OS feeling for users who want to try something different.
It is like ornament of tech geeks/innovators for their Smartphones.
Small companies are able to manufacture Smartphones without caring about Software.
By CyanogenMod users get benefit of developer community advancements with this OS.
Top Smartphone brands coming with pre-installed CyanogenMod OS?
One plus one
Micromax smartphones
Will this OS rock over the Smartphones in coming future?  Let us know below in comments. Also welcome any suggestion and feedback about the post. 
[ssba]