You like to have ringtone on iPhone with your custom selection of a music part. I found many times that ringtones purchased from various ringtone providers doesn't satisfy me because I want custom part of a music file which i liked very much when listening music.  Find a music part which you want to set as your ringtone on your iPhone then you are at right place. Here we will tell you making iPhone custom ringtones.
Below are the ways for Making iPhone Custom Ringtones –
Making Ringtones Using iTunes
Ringtones App for iPhone
Make iPhone Ringtone Online from YouTube
Choose way above and Simply follow the steps as described below and create your own custom ringtones –
Making Ringtones Using iTunes
Note:- iTunes didn't work for DRM protected files, so make sure you are trying to convert DRM free file.
Follow Steps-
1. Open iTunes on your computer
2. Find the song in music library that you want to make a ringtone
3. Listen the song, write down Start time and End time for ringtone ( Max length 40 seconds)
4. Right click on Song, select "Get Info"
5. Click "Options" Tab, Now select check box "Start Time", "End Time" and enter "Start Time", "End Time" in Minutes :Seconds (i.e, 2:02, 2:32), Ringtone length should be Below 40 Seconds, Now Click on Ok.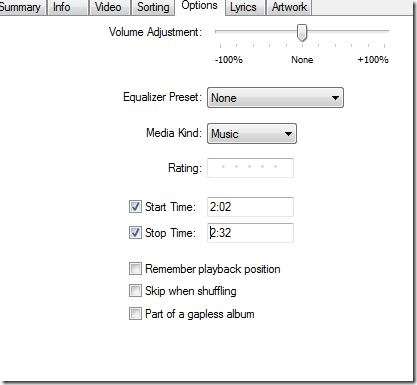 6. Right click on song and Click on "Create AAC Version", Wait for iTunes to convert your song. It will create a duplicate version.
7. To get the ringtone on your iPhone sync your iPhone to iTunes. If this is the first time you've added a ringtone in this way, make sure that the "Ringtones" tab is set to sync.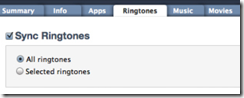 8. To change the ringtone on your iPhone to your chosen song, go to "Settings," > "Sounds," > "Ringtone" and you should now have a "Custom" list above the pre-loaded "Standard" list. Just Tap the song you want as Ringtone on your iPhone.
Custom Ringtones App for iPhone
Note: It requires iTunes on computer so first option is best.
Install Mobile17 free App from Apple App Store on your iPhone.
After installing open Mobile17 App, After open App, Tap on "Select Song", Now select song on your iPhone which you want to convert to Ringtone. Now it will show related songs to your selection, select exact song.  Now move – and + button or tap and drag and select starting point of ringtone. By default app comes 30 seconds ringtone length selected you can select your custom. After selection click on Create ringtone.
Now watch this video to set ringtone on your iPhone

Make iPhone Ringtone Online from YouTube
There many websites whose let you to convert ringtones easily. Here i will tell you about http://audiko.net/
You can get your ringtone via searching here, if you still didn't find your ringtone then open home page of this website http://audiko.net/ . Now click on upload,  Select music file which you want to convert into iPhone Ringtone or another option is enter a URL. Another option let you to create Ringtone from YouTube video. Enter YouTube URL and click on upload.
After uploading, Click hold and drag waves from where you want to start ringtone. By default it creates 30 seconds from start point. Now click on "Create Ringtone", Enter Title and artists and click edit.

Now download your ringtone in Mp3 or iPhone format. For download ringtone for iPhone click on iPhone icon.

Download ringtone to your iPhone using iTunes.
Above are various ways to create ringtones for iPhone. Have questions then you can ask them below in comments.
[ssba]