Reliance jio chat messenger is another WhatsApp like app. Reliance jio infocomm is well know name for 4G services seekers in India. It is launching pan India 4G services by this year. Before this launch they have introduced an chat messenger app like skype, whatsApp. I am fortunate to get it downloaded within first 50 downloads of the app since launching of it. On one side Airtel, Vodafone are planning to get passed some laws for anti-net neutrality, while Reliance Jio Infocomm has shown its support to net neutrality via launching app.
About reliance jio chat messenger app & Installation
Anyone can download this app via Google play store from here. It is 20 MB sized app. It is getting popularity now. Today I am seeing its 1000-5000 installs, Yesterday  it was 10-50 installs. When you open it first time, It will ask your mobile number for registration. After entering mobile number it will send you SMS verification code.
(In me & my two friends installing experience shows it doesn't send SMS code instantly. It takes some time in arriving message. So you will need to wait a while. If you haven't received it within 15 minutes. You can regenerate SMS code. Once the sms arrives it fills SMS code automatically in app in Android phone. As it didn't happened in my iPhone).
Some cool features in reliance jio chat messenger app
Audio video calling features– This app is having features for making audio/video calls using dialer. You can dial number to connect a call. If the destination user isn't online on Jio Chat app, it will ask you to connect call via your cellular network. It is nice feature to call your friend via this app even when they are not online. It will show recent call history above the dailer like the below image.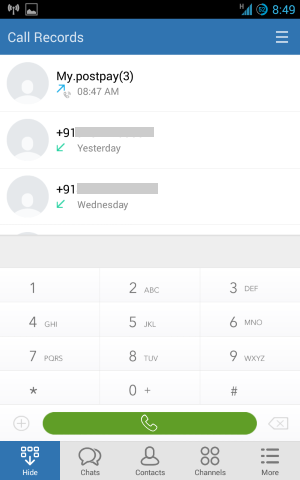 On dialer screen of this app below bar will show you many options. You can see chats, contacts, channels and more options for using. It shows text chat window like the below image:-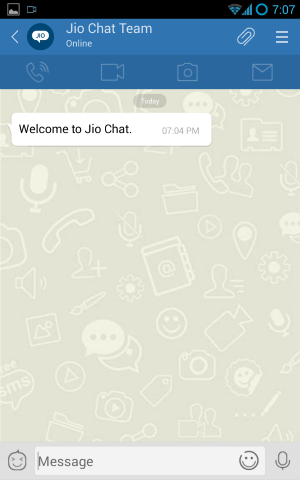 It supports emoticons like any other popular chat messaging app. There is nothing special in it to be specially noted.
This app have Stickers to make your conversation more attractive and easy to express. Seeing it right now makes me feel that it will have paid stickers as well in future to use with the app.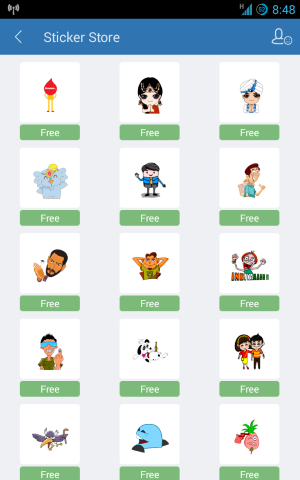 The next feature is channel exploring with this app. I think it will be more developed by the time app becomes popular. Currently it showing some text information in a article form for specific channel.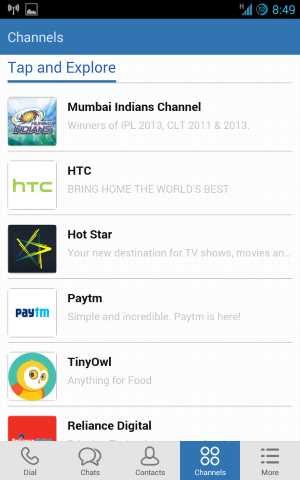 No doubt, Every high speed broadband seeker in India is looking with hope towards Reliance Jio Infocomm. This app launch via them shows one more strong signal that they are going to make it strong Network service. If all goes well this app will be surely become popular among India users.  I am not sure what response it will get outside India.
Let me know below in comments about your suggestions, feedback about Jio Chat app.
[ssba]