Nokia has launched mobile phone with 41-megapixel camera in Barcelona MWC, Which is highest resolution camera in a mobile phone till date. Nokia sets a new industry standard with the first in a range of high end experiences based on exclusive Nokia PureView imaging technologies. This is the first smartphone to feature Nokia PureView imaging technologies, bringing together high resolution sensors, exclusive Carl Zeiss optics and Nokia developed algorithms, which will support new high-end imaging experiences for future Nokia products.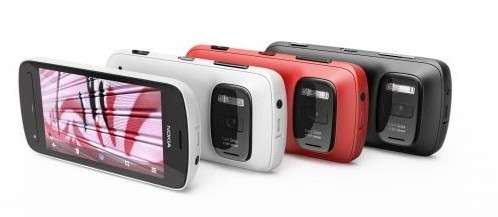 The Nokia 808 PureView features a large, high-resolution 41 megapixel sensor with high-performance Carl Zeiss optics and new pixel oversampling technology. At standard resolutions (2/3, 5 and 8 megapixels) this means the ability to zoom without loss of clarity and capture seven pixels of information, condensing into one pixel for the sharpest images imaginable. At high-resolution (38 megapixel maximum) it means the ability to capture an image, then zoom, reframe, crop and resize afterwards to expose previously unseen levels of details.
Below are the main features on Nokia 808 PureView-
41 Megapixel image quality, Carl Zeiss lens, and PureView imaging technology, you'll take the best photos ever with a smartphone.
The Nokia 808 PureView, also includes full HD 1080p video recording and playback with 4X loss less zoom with high quality sound.
Zoom closer and react faster. The camera activates in less than a second so it's ready to shoot when you need. You can zoom as fast as your finger up to 3 times as close with zero loss of detail.
Nokia 808 PureView gives you a powerful Xenon flash and LED video light so you're ready for spontaneous moments when spirits are high and the lights are low.
Share high quality images and videos online instantly and you can watch HD videos on you HD tv using HDMI cable.
Find your way with  Nokia OVI navigation. You'll get guidance by car, on foot, or with public transport – for free. Nokia Drive is fully optimized for in-car use, with navigation for over 100 countries.
Nokia 808 PureView is the first smartphone to feature Dolby® Headphones. It's exclusive to Nokia smartphones. With Dolby® Headphones you can get Dolby Surround sound from any stereo.
Specifications of Nokia 808 PureView –

So Go for Nokia 808 PureView and Capture your images in Pure Quality.
[ssba]