Paltalk is a best video chat community available for users worldwide.  There are about thousands people online anytime in different video chat rooms. Any user can join the community for free of cost. For more advanced features you can buy paid plan from the site. Paid plan provides unlimited webcam access facility to users.
Personally I like paltalk video chat messanger very much. And that's why I am sharing this info with you. You will also enjoy this application doing video chat. Basically Paltalk is available for computers. Now its Mobile versions has been launched. They are available for Andriod, iphone, Blackberry devices.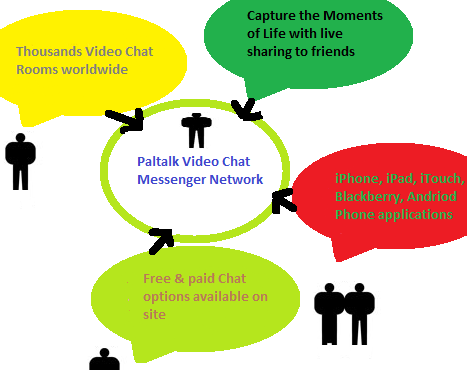 On Andriod phones paltalk can bring some fun sharing in your life this way:-
 You can update status on paltalk messenger on the go. Whehter you are on road, movie hall, restaurant, club or other place you can update about your mood in status update.
Take picture on your andriod phone and share with friends in a easy way.
Imagine you are on tour, and want to show your friends live. then there is option for you to share cam to cam chat video with your friends easily.
Some persons has created nice video network sharing their knowledge. They included videos for educational, informative purposes already on many chat videos.
You can make friends there browsing thousands of video chat rooms of paltalk.
In my view its cool application you should have on your andriod phone.  You try & Let me know about your experience.
[ssba]