pinterest is a social photo sharing site. Its popular site to share & organize all interesting things at one place. You can share fun over the site easily.  You can join it simply by requesting invitation available on pinterest site. Specially it is liked by women all over the world.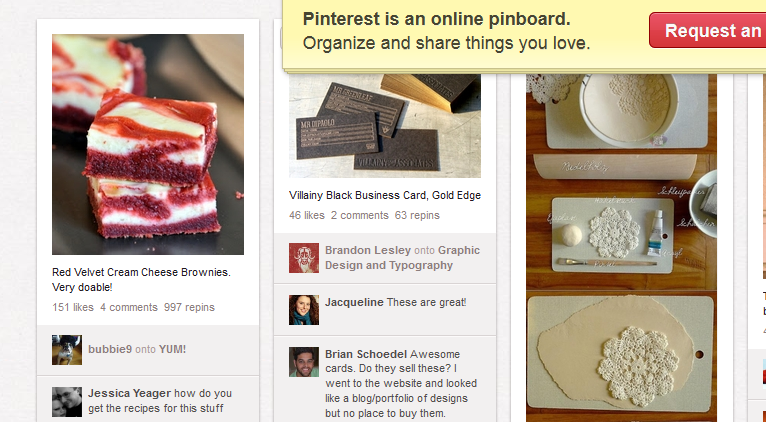 Pinterest has currently Global rank 60 according Alexa Traffic Rank.  And it was in list of "time magzine" top 50 sites column site for 2011. Istock , Getty Images are such online royality free/paid royality  image stockist sites have discussion to pinterest regarding content issues. These days it is noted that some fake images are being uploading by some users. Who using it to take some kind survey showing people that they are from branded companies. They are stealing personal informations. So be aware of such surveys.
Some people like it to be called "facebook for Women" as easiness in use & sharing like as facebook having. Its came to know that it is easy in saving websites online in a better way than other social networking sites. Pinterest has iOS versions apps as well. And its quite interesting to have such useful sites on palm.
How pinterest add fun in your life:-
Pinterest is great place to know latest Styles, Fashion trends of life. It includes are looking related stuffs.
It gives ideas to save money by cutting expenditures in daily life things.
It helps in keeping safe all kind life memories for long term. everytime you will check pinboard you feel alive.
It gives information about different topics. So pinterest helps in knowing things in a fun way. As it is said " A image do  work of Thousand words", It happens on pinterest.
Get updates related to all kind gadgets, phones, devices, cars, & other kind technology related news via browsing pinboard available on your PC/Device screen.
You can do many kind DIY projects for your home. There are many things which told there in a easy picture.
There are many kind Creative works on Pinterest. Which inspire to do many creative things.
You can be stress out via having fun in life on the site.
Its like scrapbook of life. Where we can keep all events of life stored online. Whether it is about how childrens playing, how my doggy is. etc.
There is wide range of categories on site available. It includes many categories as Architecture, Art, Cars & Motorcycle Design, Education … Etc.
Now you can upload video also over pinterest.
Pinterest is online collection of all kind beautiful things over the world.
You can be more social seeing what others doing nearby you. Its great tool to sharing lifestyle & fun.
In my view pinterest is great option for users worldwide to have fun in life. In our routine life we get somehow stress many tiemes. Browsing such sites is really make us cool. There are many kind Quotations by people on Pinterest to be out of burden of life. So don't wait for fun. Join the site and start storing life in fun…
[ssba]