I was confused about Prepaid VS Postpaid Mobile Connection – Which is Best? I did a lot of research and after using both type mobile connection, I found that both are good according to requirements of use. Both have advantage and disadvantage when comparing to each other.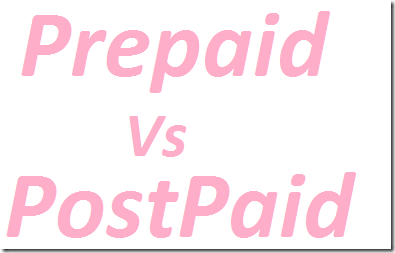 Benefits of Prepaid
No fixed monthly charges, recharge as you need.
Recharge with amount you would like to talk.
Get lifetime validity on certain recharges.
Pre-activated STD/ISD calling without any security.
Full Talktime Topup offers and call rate reducing STV (Special tariff vouchers)
No worry about budget because it is prepaid.
Disadvantage of Prepaid
You can't call when your balance is low in prepaid account.
You need to check balance and need to recharge when it goes lower otherwise no outgoing call. If you are in roaming then there will be no incoming call.
You can't recharge your prepaid away from urban areas and villages. Recharge outlet and internet is required for recharging prepaid.
Benefits of Postpaid
Call costs are lower than prepaid. If you make outgoing calls more then Postpaid is good.
No need to worry about low balance.
Network operators provide tariff plans on monthly ,quarterly and yearly base. Also include zero rental plans.
Attractive data plans with included budget for business users.
Disadvantage of Postpaid
You have to pay minimum bill whether you make calls or not.
You need to pay service tax extra on bills and some hidden charges (If you are only user of your mobile phone then no need to worry).
No control on bills it may spoil your budget.
You can't get unlimited GPRS on Postpaid plans.
So above are the advantage and disadvantage of both plans choose best suitable mobile connection fit in your needs.
[ssba]