Restore computer is option in windows for recovering computer to an early point of time. Say if I set restore point of 10th feb.  and on 12th feb. I got some problem with my PC. Whatever the cause is I got my pc stopped or some connected hardware not working properly. In such cases Window provides us option of Restoring computer. we will below discuss about Restore your computer on Windows 7 Pros & cons.
These are Plus points of Computer restore feature:-
1. It helps in restoring computer in case of bad driver installation.
2. It protects your computer from unwanted changes & viruses causing software issues.
3. It creates restoration point before any new software installation. Anyone can experience software installation with it. If results of that installation not as expected then computer can be restored to earlier stage.
How to setup system Restore:-
Go Start Menu >>All Programmes>>Accessories>>System Tools>>System Restore
Choosing Your restoration point:-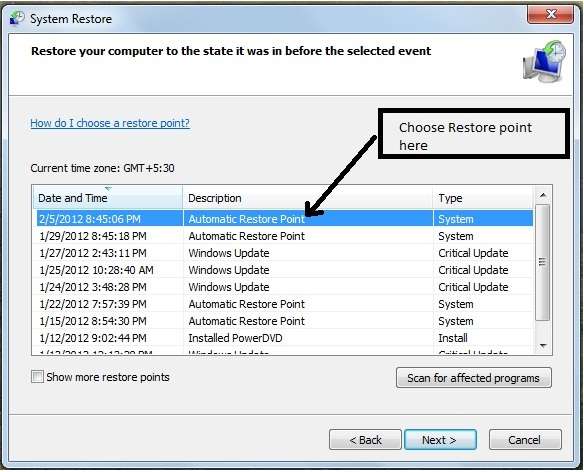 After selecting restoration point click Next –  It will confirm restore point showing date & time on which computer will be restored.
And then click Finish. Restoration process will be started And will be completed with computer restart. And your computer will be restored to the point you selected.
Problems in using System Restore:-
>Keep attention regarding programmes which are installed during period of Restoration point selected to current time. All programmes installed during this period will be deleted. So be careful.
> Computer Restore feature enabling may cause Disc usage & CPU memory uses. And may slow your computer
Overall using System restore is great option for security of any computer.
[ssba]