After a lot of rumours on internet finally Samsung unveiled mostly awaited smartphone Samsung Galaxy S III. The Galaxy S III is third generation mobile of Samsung Galaxy S series Smartphones. The Galaxy  S III is designed for humans and inspired by nature. The galaxy S III is a smartphone which will recognize your voice and will be operate on your voice signals as sharing precious movements easily within your voice. This smartphone will really impress Smartphone lovers because Samsung added many new features to Galaxy S III.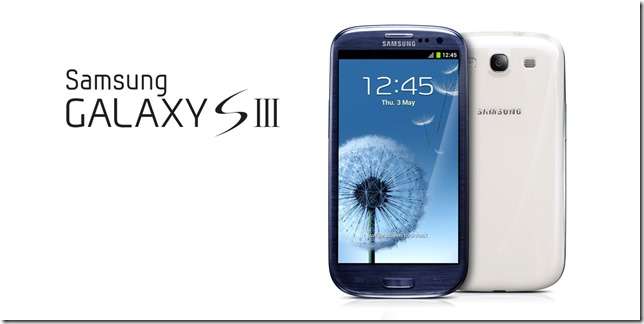 Samsung Galaxy S III features :
4.8-inch (1280x720p) Super AMOLED Display : 4.8-inch HD Super AMOLED display will provide a large and vivid viewing experience on your Galaxy S III.  Super AMOLED display even enhances to HD and 16:9 wider viewing angles.
Android 4.0 Ice Cream Sandwich OS : Samsung GALAXY S III is powered by Android™ 4.0, Ice Cream Sandwich, with ICS 4.0 you will get Android OS features on Galaxy S III smartphone, at this time Android is most trending smartphones OS. Google Play Store provides you millions of apps available for download. Enjoy worlds most popular mobile OS on your latest Galaxy S III device.
8 MP rear camera: 8MP camera features a zero-lag shutter speed that lets you capture moving objects easily without delay – the image you see is the picture you take. With the 'Burst shot' function that instantly captures twenty continuous shots, and the 'Best photo' feature that selects the best of eight photographs for you, the GALAXY S III ensures users a more enhanced and memorable camera experience.
1.9MP front camera with "face recognition"
Intelligence : The GALAXY S III features 'S Voice,' the advanced natural language user interface, to listen and respond to your words. In addition to allowing information search and basic device-user communication, S Voice presents powerful functions in regards to device control and commands.
NFC (Near Field Communication) Chip: NFC will let you to share content between devices without need of pairing device. Just keep devices 1 to 4 cm away and share your devices. Mobile payment is also accessible with the device through advanced Near Field Communication (NFC) technology.
Blazing fast Speeds with Quad Core Processor
4G LTE Supported (This feature Depends on Country)
Pop up play: 'Pop up play,' a feature that allows you to play a video anywhere on your screen while simultaneously running other tasks, eliminating the need to close and restart videos when checking new emails or surfing the Web.
2100mAh Battery
Below are the Specifications of Samsung Galaxy S III Smartphone –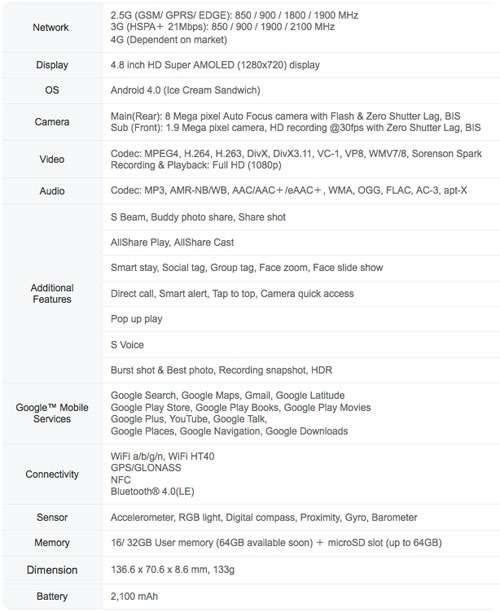 Samsung Galaxy S III is Available in Pebble Blue and Marble White at launch, Samsung will introduce a variety of additional color options. So go for this latest Android based smartphone and experience newer and faster technology.
The Samsung GALAXY S III will be available from the end of May in Europe before rolling out to other markets globally.
So above are the features of Samsung Galaxy S III, if you have any questions then you can ask them below in comments.
[ssba]