Have you got Windows 8 installed PC/Laptop or upgraded your current computer to Windows 8 PRO. If yes then you got a lot of changes which Microsoft® made in Windows 8 Pro. There was Ad-hoc option in previous version of Windows (Windows 7, Vista, XP) for sharing internet, but windows 8 internet sharing can't be enabled by using Ad-hoc because this option isn't available in Windows 8 PRO. I always share my PC internet to my other PC's and devices but Windows 8 created problem for me. Below i will tell  you how to share internet on Windows 8.
Finally i found solution for sharing Windows 8 internet using WiFi to other Computers and mobile devices. Previously ad-hoc network wasn't working on Android devices but using this guide you will get internet access on Android devices too.
Create Virtual Router on Windows 8 for Internet Sharing
First download this Windows App from here.
After download open this app.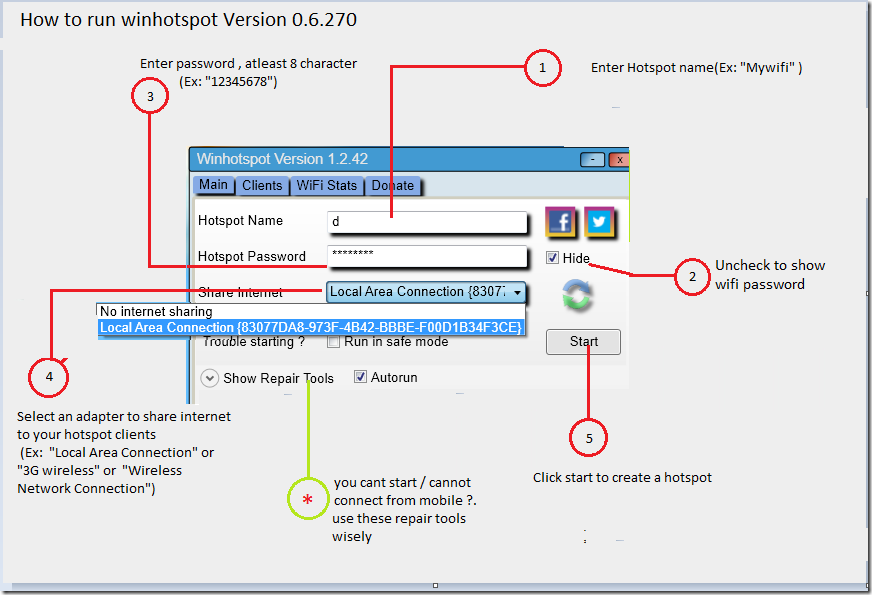 Follow the steps –
Enter Hotspot Name (ex. "myfi")
Uncheck to show wifi password
Enter password, Atleast 8 character (ex. "12345678")
Select an adapter to share internet to your hotspot clients (Ex: "Local Area Connections" or "3G wireless" or "Wireless Network Connection")
Click start to create a hotspot.
After clicking start your hotspot is started just enjoy your windows 8 sharing internet on multiple devices.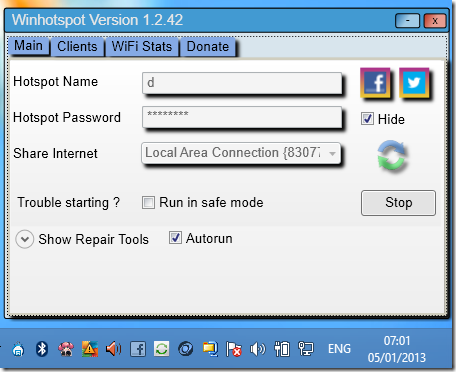 Note: Sometime it shows enabling wireless adapter when you click on start. Please click on reload icon if this problem presents then click start.
Note:- This article will share your connected internet connection, for example you have data card or direct metro cable to your windows 8 laptop or desktop.
If you still getting problem in windows 8 internet sharing using wifi let me know in comments below.
[ssba]