Skype has changed the way we chat and call over internet. If you have internet on your Android Phone or Tablet, You can video call to Skype contacts using Skype App for Android over WiFi or 3G. You can send text messages, share photos, videos using Skype on your Android Device. Skype is compatible with multiple devices like iPhone, iPad, Windows, Mac, Linux, Blackberry, Modern TV's and other smartphones. So it is easy to communicate using Skype with friends, relatives and others. It doesn't matter on which device they are online.
Skype for Android
Skype is available for most of Android devices available in market. Skype supports devices who has front camera and have Android 2.3 or Above. Skype is supported by Samsung Galaxy Note, Galaxy S( II, IIII), Nexus one, HTC Sensation, HTC X one and other Android smartphones. To check whether your device is compatible with Skype App, Open Google Play Store on your Mobile then search "Skype" if Skype is available for download, then your device is compatible with Skype for Android App. After installing Skype on your Android device you can send text messages, share Photos, Videos and make voice or video calls  to your Skype contacts in a easy way.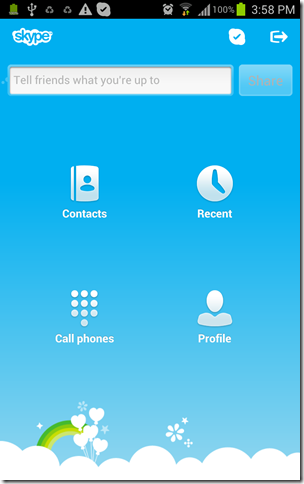 Benefits of Skype App for Android
Skype is most liked Android app because of many features as below :-
Instant Messaging on Android Device
Skype to Skype Voice Calling using WiFi or 3G
Skype Video Android to your Skype Contacts
Call on International mobile or Landlines in low cost
Receive Skype Calls, Messages on Android Devices
Conference between multiple Skype calls
Share photos, files on Android
Connecting to Bluetooth devices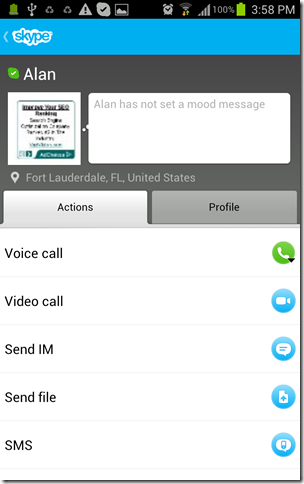 So Skype is useful for Android devices to call & share content.  You should have it on your Android phone to Video call, text messaging and Sharing content.
[ssba]