Everyone wants to organize photos taken on Smartphone (Android, iOS) or Camera.  You want to import photos in organized folder to your windows computer, If yes then you need to backup photos to computer for past memories.  But when you will have the large collection of pictures you are unable to find picture by your desired date, year or event. This question consists in mind that how to import photos on computer in organized folder format.
I have thousands of pictures on my computer. These photos are organized in folders by date/month/year and tags. Year month & tags let me decide what about are folders or what kind of photos i want to watch at that time. so organizing photos is good if you want to memorize your memories in near future.
Why Photos Should Be Organized on Computer in Folders, Date, Month, Year or Tags
Importing photos in organized folders on your computer. It helps faster finding memories of an event.
Imports photo taken time, date, year and your GPS Location (longitude & latitude ) in photo details.
Easily share desired photos with anyone with less time-consuming.
Save the time in organizing folders later and accurate information.
How to Import Pictures from your device (Android Phone, iPhone, iPad and Camera ) to Windows
Follow these simple steps to transfer android phone photos in organized folders :
Connect your device ( Android phone, iPhone, iPad and Camera ) to computer's USB port via data cable. After connect windows will launch Auto play, select "Import Pictures & Videos" (If Auto play doesn't open then go to My Computer then right-click on device and select Auto play). After Clicking "import Pictures & Videos" windows will start searching for pictures & videos on your device. You need to click on "Import Setting" before importing. Now select options in what way you want to import photos.  Select Setting for "Camera and Portable Devices", then select Images and videos folder on your computer where you want to store pictures  & videos.  Next option is folder name, this option is most import option for importing photos in organized folders. I will recommend you to select "Date Taken + Tag" or "Date Taken Range + Tag". Now need to select file name option, select "Original File Name" in this option. Click on, now let search for pictures & videos on your device. Before importing pictures it will ask you to tag your pictures. Tag you pictures by your desired tag.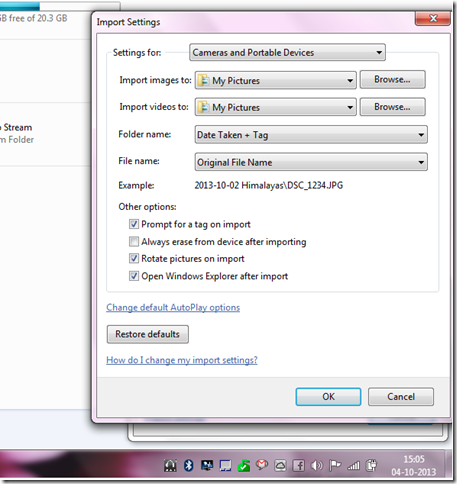 If you select Erase then all imported pictures to your computer will be deleted on your camera device.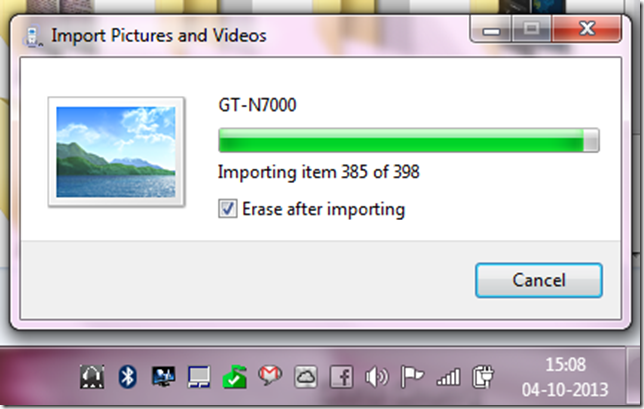 Image above showing "Transferring Android Phone Photos to windows computer"
I hope this article helped you in organizing your pictures to your windows computer from Android, iPhone, iPad and Camera devices.
[ssba]