Do you get your Android Phone today? and looking for Transfer Contacts from Nokia to Android Phone without PC?  Then there is nothing trouble in this just switch on both phones Bluetooth devices. Go to Nokia contacts list then select all contacts after selecting contacts select options and select send as business card now your android device will ask you for connectivity or transfer permission for transfer contacts to your Android Phone.
If you didn't find your android device on Nokia phone please check visibility of your device from Bluetooth options Check visible your device because i got Bluetooth visibility off by factory default.  Check it so Nokia device can discover your Android phone.
After selecting yes , Now your contacts are being transferred on your device with pictures you associated in your Nokia phone. It is really amazing to transfer contacts that no need of editing contacts  for associate images to contacts. I successfully got my contacts in my New Galaxy Note Android phone. See picture below which is showing images who were transferred from Nokia 5800 Xpress Music.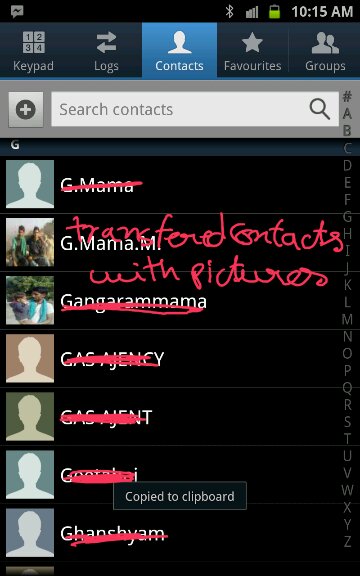 If you still getting problem then you can ask question  in comments Below.
[ssba]