You got this message on your device:- "Your data limit is exceed and your account charged by your network operator". This is common problem on Android devices because you have no idea how much data is being used by your Android mobile or tablet. But here I will tell you how to control your data uses to avoid extra charges on  your monthly mobile bill.
You haven't need to download any software if you are using Android ICS 4 or later, check for software updates on your mobile. Because Android ICS 4 has option for monitoring data usages on your device. You can check if your device has this option Go to Applications > Setting > Data usage.
How to View and Limit Android Data Usage Easily ?
There is two ways to monitor your data usage on your Android device. One is Inbuilt Android data usage monitoring option and Another is Data monitoring App for Android.
Enable Data Limit using Android inbuilt data usage option
Go To > Applications > Setting> Data usage on your Android Device. Now enable Mobile data via tap on "off", Select check box if you want to set mobile data limit (to avoid extra charges on your monthly bill). Now tap on drop down to select data usage cycle, Next is to tap on change cycle. You have to choose your billing cycle date using + or – sign, set on tap. In prepaid you have to mention date of data plan activation in billing cycle and for postpaid set your billing cycle. So it is easy to setup data limit for ICS 4 and later.
To check your data usage go to setting> Data usage and you will see usage of data in your billing cycle. You will get notified when your data uses reaches to data warning point and data will be disabled on specified mobile data limit.
View or Limit using App for Android
There are many Apps for monitoring data on your Android. Onavo count is most popular data usage monitoring app in google play store. Download Onavo count  from here . After installation open Onavo count app on your Android device and Tap on "Setup your data cap". In data cap specify data limit in GB or MB (Select from drop down).  Now set date of reset data plan on each month. Now you can check your data usage and monitor usage for avoiding extra data charges. Your data will be disabled when you reached specified cap limit. Select billing cycle according to your plan as Daily, weekly or monthly.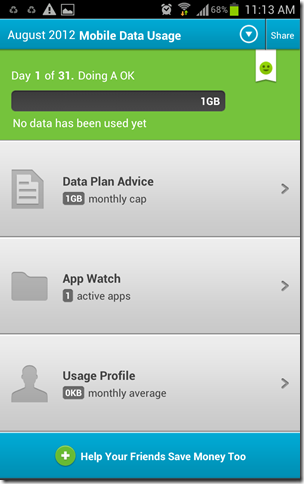 Both options above provides usage details on mobile data plan.
If you have any questions you can ask them below in comments.
[ssba]