If You are interested in watching unlimited movies and TV programs online then i hope you will like services described below:-
Amazon Prime (Hollywood movies english, TV shows):  Unlimited instant streaming of thousands of movies and TV shows with Prime instant videos. With Amazon Prime you will get one month free trial, Amazon Prime is just $79/year.
Netflix (Hollywood movies english): You can get Netflix Stream HD on you PC, Mac, iPad/iPhone or Android devices. Netflix has subscription of $7.99/monthly. Netflix Streams HD content using Microsoft VC1AP encoding at a maximum bitrate of between 2600 kbit/s and 3800 kbit/s (depending on the movie) so enjoy high quality movies at home or on the move.
iGigaplex (Bollywood movies, TV shows):  If you are bollywood or International movies lover then Gigaplex is best option for you. Gigaplex subscription starts from $9.99 monthly. Gigaplex supports iPad/iPhone, Android devices and more Smartphones.
BigFlix (Bollywood Movies) : BIGFlix is Indian online movies streaming website which provide subscription based unlimited streaming for Movie Lovers. You can watch on TV, Android Phones, iPad and iPhone. You can also watch some movies free of cost because they are free for watch online.
dittoTV :-  Ditto TV is Indian TV service on mobiles and computers  watch live tv and bollywood movies anytime anywhere on your mobile, laptop, desktop using internet service. This service is available on iOS, android, windows and mac.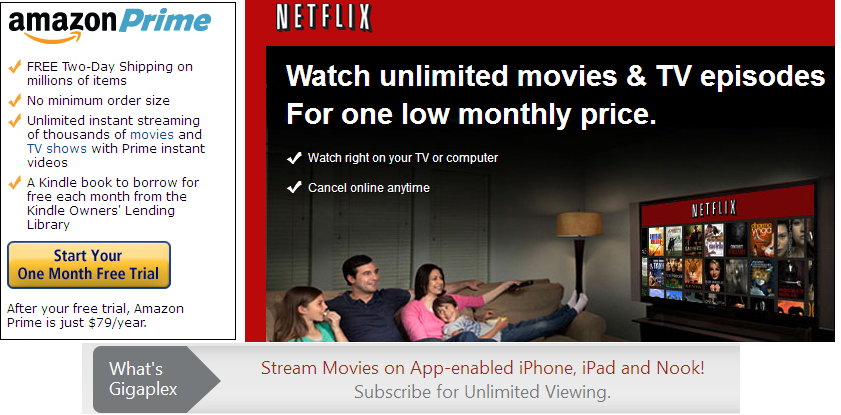 So choose service from above and watch unlimited movies on your pc, tablet or smartphone on the move or at home.
[ssba]