Technology changes very rapidly. Innovation is requirement for the world of technology. Example is in front of you as a smartphone having abilities to do all tasks at your fingers. You can see driving route, check weather of nearby locations, simply chat audio & video with your friends, sharing fun… And countless features coming with the mobile innovations.
Current innovation in mobile industry is about OS which was ignored in previous time. What we decide to buy today as a smartphone? Simply we will look for a smart phone having smart operating system like as iOS or Android. Android is currently booming OS for smartphones coming in very economic ranges. Below is a few best economic android phones coming these days:-
HTC Explorer:- This is average looking smartphone having best quality in segment of economic android phones. We all know about the company HTC. They just launch few models of mobile handsets but they keep full focus on the model. That's the reason HTC Explorer is having more advanced features other than any handset available in competitive prices of this. Below is special features of this handset:-
512 MB ram Memory
Android platform with HTC Sense
Connectivity with 3G (upto 7.2 Mbps Speed), GPRS, EDGE, WiFi (IEEE 802.11/b/g/m), Bluetooth.
Advanced Social Networking support Such as Facebook, Friend Stream & sharing media over Facebook & Youtube.
Inbuilt GPS  Device to track your location. Useful in navigation.
Smart looking body. Smart look with HTC logo at backside. Good color combinations available.
Samsung Galaxy Y:- Samsung is the king of smartphones in current market. You can see over showroom that samsung brand handsets are selling in a boom. Samsung Galaxy Y  where 'Y' refers to "Young". This handset is targeted to youth who want to do something extra using smartphones. Or say who are crazy about using Android devices. Samsung Galaxy Y is coming with below features:-
This handset is cheapest handset having android 2.3 Ginger beard in it. Its having best feature within its economic range.
Having Micro SD Card Slot option with it.
'Y' Stands for "Its targeted to youth".
Upto 32 GB External Memory Support. Useful in large media file storing & sharing.
2 MP camera to take snap.
It having Low Res LCD Screen to display.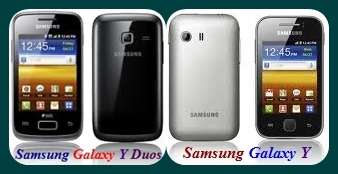 Samsung Galaxy Y DUOS:- Its another handset in series of Samsung Galaxy Y series. Its coming with following features:-
Upto 7.2 Mbps speed 3G supporting Device
Coming with Android 2.3 Ginger Beard platform
3.15 MP Fixed Focus Camera with Geo tagging
 GPS receiver with A-GPS
Stereo FM Radio
3.5 MM Audio Jack
Document Viewer
Social Networking Integration
Some Negative points of the devices:-
No flash with camera
Its having Fixed Focus to take pictures. Which is not perfect in every situation.
Its display is having Low Res Quality.
It having No secondary Camera. So forget to do video chat over 3G.
But after all this handset is best for the price it is coming in. According to current trend of Android having this handset is good for us.
After Viewing all these 3 models which is economic & smart phone available in market, Decide a device which you think it will be perfect for you. Let me know if you have any query regarding these handsets, in Below comments.
[ssba]