What is Vapour Compression Refrigeration System ? vapour compression refrigeration system  is most popular refrigeration system amog all refrigeration systems.  vapour compression refrigeration system has four major process like compression , condensation, exapansion and evaporation. Like these process , it has four major componant compressor , condensor, expansion device and evaporator or cooling coil.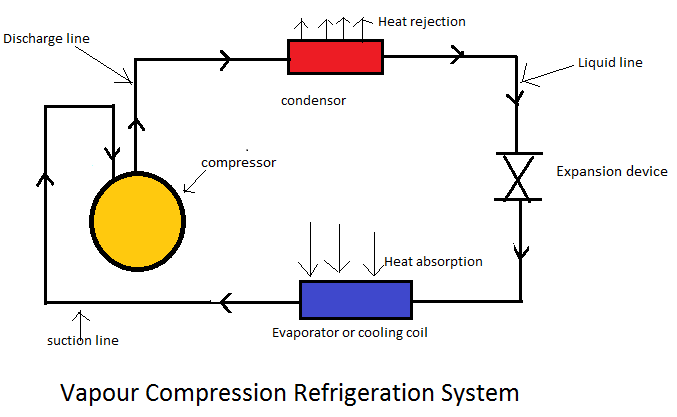 First , saturated vapour( with low pressure and low temperature) of refrigerant  enter into the compressor through suction line. After that compressor compress the vapour and convert into high temperature and high pressure vapour. This vapour enter into condensor through discharge line . Condensor condense the vapour and reaject latent heat and convert the vapour into liquid. We got high temperature and high pressure liquid at condensor out let .
Then liquid enter into expansion valve through liquid line . Exapansion valve reduce the pressure and temperature of liquid refrigerant . This low temp. & low press. liquid goes into evaporator.Hot room air circulate over the cooling coil by blower fan .
Hot air gives it sensible heat to liquid refrigerant & get cool and liquid refrigerant convert into  vapour . This low press. & low temp. vapour goes into compressor through suction line again & complete the refrigeration cycle.  This process will continue till our requirment. In this process refrigerant travel in  the system coze of pressure difference . This system has two press. one is called high press side & another is low press. side .
[ssba]