In past there was a time when most of users were have no intention for selection of Browsers. Only the Internet Explorer(IE) was only browsing platform for the people that time. But as time & changes come in technology, Now there are many browsers for use. web browser use is different person to person. So we will know here which web browser use is best for a particular reason.
So here we will discuss about Which web browser to  use – Firefox, Opera or IE?. IE, Firefox & Opera are browsers which having all latest features to browse sites. Lets have an overview over these browsers below:-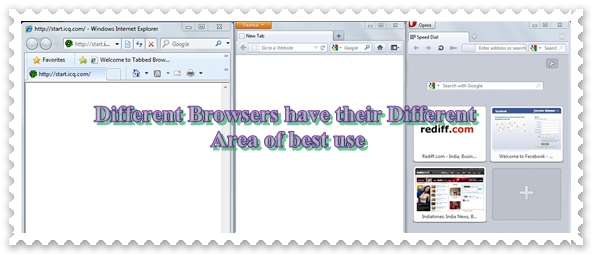 IE (Internet Explorer):-
Plus points
Its the best browser if you are looking for all kind scripts support. It does support all kind scripts available over internet world. You never responded by browser that scripts not working here.
No need to install this browser. This web browser comes with Microsoft Windows package free of cost. So mostly users use it because they have not to install it.
Newer versions having options which is all similar browsers having. For instance its supporting tabbed browsing in new versions.
It giving Faster internet browsing experience these days.
Negative Points
It takes time in loading pages. Its slow browsing is the main problem which given chance to develop other browsers.
Although you can customize the look of browser as per your need, But still it having lack of impressive customization of look.
Internet Explorer is having lack of synchronize options to save your login details, bookmarks & many personalized items.
Lack of Add ons to enhance your browsing experience.
Mozilla Firefox Browser:-
Plus Points
Firefox is very easy to use browser. Its look is impressive to work with. Navigation of browser is another plus point.
It does support most of scripts available over internet. Although it having problems with some scripts. But its fine in most cases to work with.
Tabbed browsing is very cool in this browser. Computer will work fine even you have working on 10-15 tabs at a time. No issue will be in using this way.
Firefox has a developer community support via Add ons. You can install add ons as per your requirement. If you are webmaster you can install Adblock PLus, Pagerank checker, … And many kind add ons available.
Yes you can set up Synchronize account for your all kind personalized items you have in your current browser. If you need to reinstall browser in the same computer or have to install same personalization browser over another PC. You can simply use this account for setting up all in few clicks.
Negative
Firefox got sometimes sudden crash. It cause data lose. Its the problem which all browsers having. But firefox have this bug in most cases.
Some scripts are not supported by firefox.
Opera Browser:-
Plus
Setting up Synchronization for this browser is plus point. Every one wants to keep personalized items for all browsers.
Opera has Quick Download option. Which all browsers having lack of it. Simply paste download url directly in Quick download at download option in Opera.
Fastest loading of webpages is the most important advantage of this browser. Opera does brows first text then images. Thus it keeps browsing experience very cool in slow internet speeds.
Customization of look, Or customization for your own work comfort in this browser is very easy. You can add web pages to speed dial pages, You can add your regular use pages there.
Opera does support adding another extensions. It makes more usefulness of this browser.
Negative
It having lack of support for scripts.  So some sites may not be working fine with this web browser.
Its faster browsing sometime cause problem in browsing webpages properly.
All these web browsers have their own particular uses. A web developer may consider using IE, Firefox. A common user who surf internet for general cause may use Opera browser for fasting browsing. Let me know in below comments which browser is your best browser to use?
[ssba]