It has been around one year since Windows 8 is available publicly. After release we all found Windows 8 with new UI which looks charming than previous one. But this new UI is hard to understand and to be habitual for old Windows version users. Although this Window version has poor OS performance history for Microsoft, still we can expect its new versions Windows 8.1 and Windows 9 will possibly boom in market. The new UI has a lot of illusions for first time users like as how to uninstall apps from windows 8, How to close apps, how to browse desktop, where is start-up option? etc. In this article we will discuss about how to close apps after opening from Windows 8 Metro UI.
Simple Windows 8 close app options
1. Windows 8 close app By Dragging app to bottom side
In windows 8 app screen move cursor to highest possible up side, It will change in form of a hand. When it changes to hand left click and drag it to bottom side. When you do this it will show you app in minimize form. You need to drag it till bottom of screen to close the app. It is very easy to use option. For touchscreen device simply swipe it in same way up side to bottom to close the app.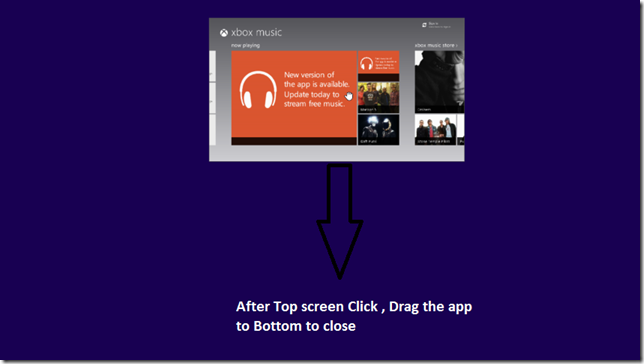 2. Windows 8 close app by Old Keyboard shortcut
We all know the common window close shortcut Alt+F4 of previous Windows versions. Simply apply this option to close any app instantly. No hard things to do in this way, Just you need to follow a repetitive way we have used in older windows versions.
3. Windows 8 close app by Using Task Manager
Task manager is life saving tool from Windows to close when any particular program hangs computer. To close app using task manager simple press CTRL + ALT +Delete buttons altogether. When task manager appears to you simply End task of app which you want to close.
4. Switch between other Applications Use
You can use Alt + Tab to switch other running programs. It is better option when we need quickly to go out of the interface to other running apps. It is better to switch between app and other programs if we need to return to that app after a while.
5. Windows 8 close app by App management Options bar
See running apps by moving mouse cursor to slight down top at left side of screen. It will show Active apps this way:-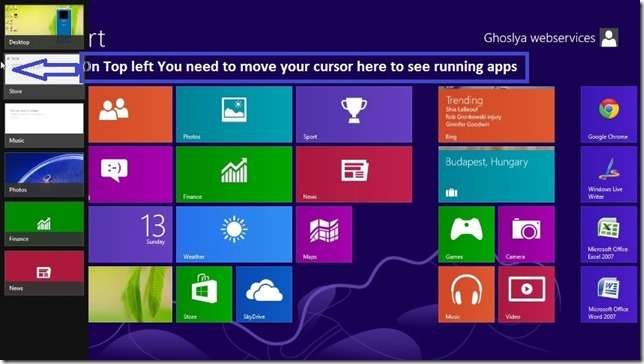 When you right click on any active app it will show you close option to close app. This is good way to close app when you have a lot of apps running in your device. Just select a particular app in app management options bar and close it easily.
You can also switch between apps by moving cursor to very top left side corner of Windows UI.
Hoping this will help you in using and closing Windows 8 apps in more efficient way. Let me know in below comments if you have any query about this post.
[ssba]