I have Lenovo laptop and updated my windows 7 to windows 8 consumer preview version. Windows 8 is really great development from  Microsoft in the competition of Tablet computers. It is basically designed for tablets and current desktops. It supports ARM, Intel and more processors, So it works better on touch based interface like tablet computers or touch desktops. Now problem comes here that windows 8 is being hard as newbie when we operating it using mouse. As we can't get direct shut down button in windows 8 as in previous versions. Previous versions of windows like windows 7 , windows XP and others has start menu in left side and start menu contains shut down button which is too easy  but shut down is not easy for newbie so here are the shutdown options for you choose best suitable shutdown option for you. I generally shout down using mouse .
Below are the best shortcuts for windows 8 for easily shutdown, restart and log off –
Open setting menu using Win+i hotkey and click on power you will get shut down, restart and sleep options. This is best and easiest way to shut down, restart your windows 8 computer using keyboard.  See image below-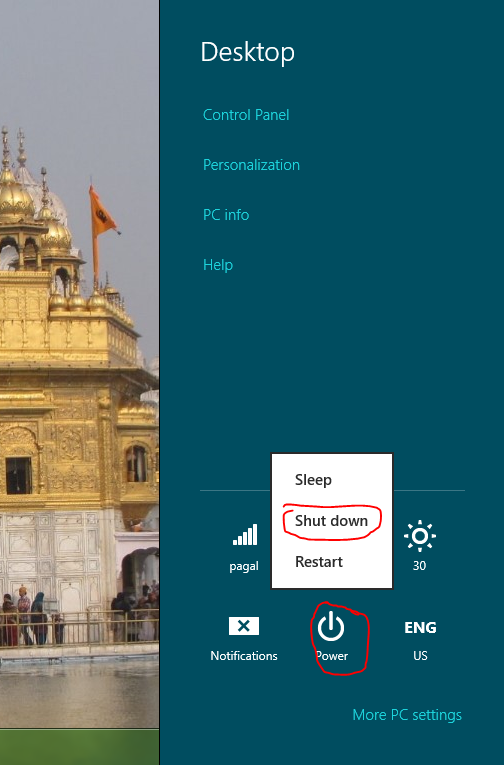 Shutdown, log off or restart via using keyboard shortcut ALT+ F4. You will got all options like previous version of windows, choose what you want. This option also provide you sign out user on computer and you can switch to another user on your computer.
See image Below –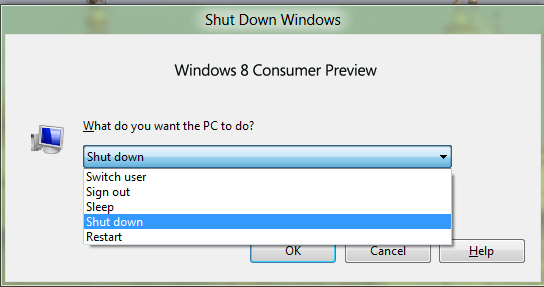 You can also shut down your computer or switch to user via pressing Windows Key + L , Now screen is locked and you will see options to switch to another user and power options.
Shutdown via dragging mouse pointer in right hand side  see the video below:-

Above are the option i found for shut down windows 8 using shortcuts in various ways. Windows 8 has many new features on it and it is easy to navigate on tablets, so you will get windows 8 experience on tablets asap.
If you have any questions you can ask in comments below.
[ssba]