Most of us already know about air conditioner. It is commonly used in homes and offices. It is a speedy increasing industry in all over the world. The global warming and climate changes are increasing demand of AC's. I will recommend to go with year around AC benefits.
First of all let me describe you about AC. It has two popular types Split AC and Window AC. This is an electric device operated by electric energy. Due to this, it may cause electric faults by short circuit. Also power fluctuation problems can cause issue in ACs specially in developing countries like India.
For maintenance of ACs we have to call the technician for rewiring  of window AC. It costs some money to us in a maintenance process. We can avoid these fees ourselves by knowing it. Some cool tips for you to check rewiring of  window AC.
Types of window ac wiring diagram
PSC Wiring – AC Wiring Diagram of Window Airconditioner
This wiring is also called PSC.  The full form of PSC is permanent  split capacitor. It has only running capacitor . It always works in circuit. Have a look over below diagram to understand it properly:-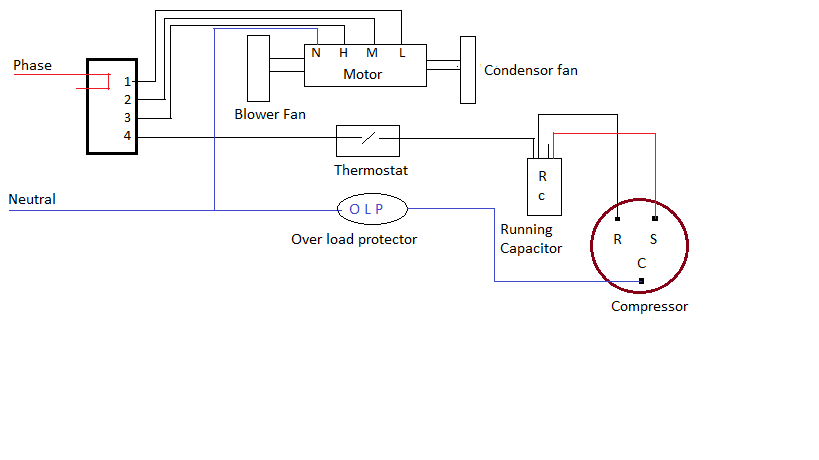 C S R Wiring – AC Wiring Diagram of Window Airconditioner
This is second type of wiring. It is called CSR. It has full form capacitor start and capacitor run.  It is called CSR because it has relay, starting capacitor and running capacitor in it. The voltage type relay also used in this circuit. The relay eliminates starting  capacitor from the circuit after starting the compressor. Because of this, starting winding is also eliminate from the circuit. It makes compressor working continuously on running winding. So, the relay is used in circuit.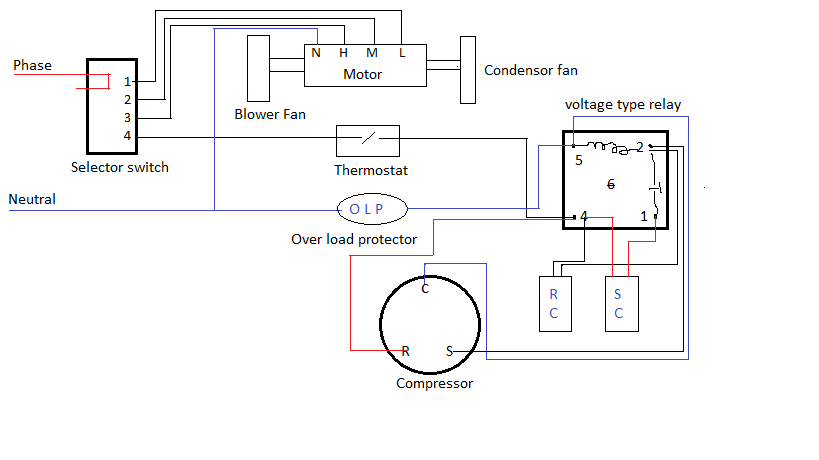 AC Wiring Diagram of Window Airconditioner helps in understanding the process. One can understand it by viewing diagrams of AC wiring. It helps non-technical persons to do maintenance of AC low costly.
Let us know below in comments about questions, suggestions or feedback about it. I am hoping to hear from you.
[ssba]